We also had training seminars in NJ, of course. It's amazing how many people from around the world find our little training group in Spring Lake. Seminars are pretty much every month. You can see the 2020 schedule here.
We also did a couple of women's self-defense classes this year. Actually, we combined taijutsu and yoga into what we think is a unique new approach to personal protection. If you didn't know, I practice yoga daily myself, and highly recommend you look into it as a part of your junan taiso training. Finding the right teacher is key – so do your research!
The training was very fun, and I learned a lot. I often say that it is important to train with women and study their responses to conflict. Unlike men, women – especially the trained ones – tend to seek a sneaky way to escape force, rather than try to meet power with power. This is very "ninja-like." That's why the kunoichi were considered some of the most effective ninja operatives.
Maybe we'll do a few more in 2020 – who knows?!
I traveled to Grand Rapids (there's still no rapids, by the way). Had a great time training with some fine folks.
Thanks, Craig Gray, for setting that up.
I also got to train once again with my friend, Joe Lopez, and the dedicated buyῡ of Hawaii Bujinkan.
Even got some fishing in.
I also competed in the Waikiki Biathlon. It was a little rough out there!
I managed to not drown in the swim but hope for nicer weather next time!
While in Hawaii, I was again asked to come out to Marine Corps Base Kaneohe to do some MCMAP sustainment with the Marines there. We had a great time. More about MCMAP, to follow.
I am lucky to be spending more and more time in Hawaii, and it so great to have friends and my Marine brothers and sisters there to train with. Mahalo! See you in 2020!
We enjoyed another Buyῡ Camp East in New Jersey. A new place the last couple of years – much more room inside and outside. Definitely an upgrade, although we'll miss our old spot, the site of so many camps with folks like Mark Hodel, Dick Severence and Ed Martin. We'll never forget you guys!
Buyῡ Camps are a great way to connect with old friends and get the "continuing education" and inspiration that will help you "keep going" when you get back to your own, local training group. Please keep an eye on our seminar page for news about Buyῡ Camp 2020.
I was able to visit Japan again in 2019 to train with my teacher, Soke Masaaki Hatsumi.
We had plenty of training and a party. It was Hatsumi Sensei's 88th birthday! He's still training several days a week and painting for everyone.
He's slowed down a tiny bit, but his example of perseverance is an inspiration for all of us.
Two of our close friends passed the godan (5th degree blackbelt) test this year.
Congrats to both of them. Keep going!
Some sad news, we lost another great teacher of the Bujinkan this past year. Hideo Seno passed away after a long illness in 2019.
Sayonara, Seno Sensei. You were a great man, and you will live on through your grateful students. Like me.
In Japan this year we shot a lot of footage for a documentary on Hatsumi Sensei and the Bujinkan. Despite the cold, rain and snow, we had a fun time tracing Togakure ryu ninjutsu back to its roots with a pilgrimage to Togakushi mountain – birthplace of the Iga Ninja.
There are many more pictures of my Bujinkan training and travels on our Buyῡ Facebook page here.
Check here for upcoming seminars in 2020, including Buyῡ Camp East in New Jersey next August.

My book "The Ethical Warrior," is still doing well. Click the cover if you want to read the book. And, if you read the book and like it, please consider leaving an Amazon review. Thanks!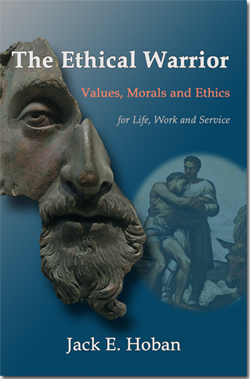 You may know that Bruce Gourlie and I wrote a follow-up book for protector professionals called "The Ethical Protector." Check it out!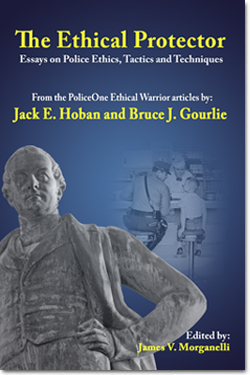 And don't forget the re-release of the old videos I did back in the 90's on Bujinkan basics. All 4 videos are now on one DVD. I had a laugh looking back at some of the footage – boy I'm getting old!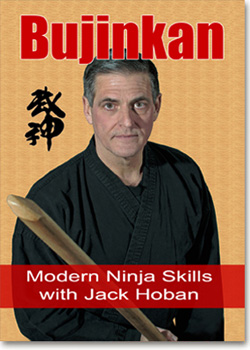 There is some pretty good stuff on there, especially for people working on the basics. And you'll see some of your favorite buyῡ on there lending a hand. You can also stream it on Amazon.com.

This past year I was again privileged to work with the Marine Corps Martial Arts Program (MCMAP) in Quantico, Virginia. This important program covers armed and unarmed martial arts techniques, combat conditioning, mental training and character development.
As an American (or ally), I think you would be proud of these young men and women. They are physically and mentally tough, yet respectful and ethical. Many are veterans of both Iraq and Afghanistan. For those of you who feel called to warriorship, and are of age, consider joining them. The Marines are always looking for a "few good men." And women!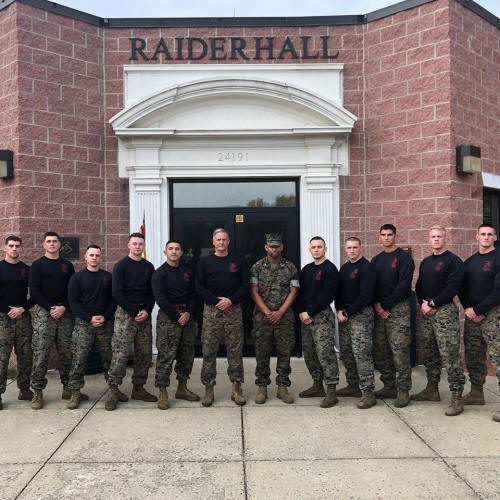 MCMAP Staff Instructors 2019 – Raider Hall, Quantico, Virginia
The warriors I am privileged to train with are quite physical but are also focused on how to maintain their ethics and a "protector mindset" under the adversity of war.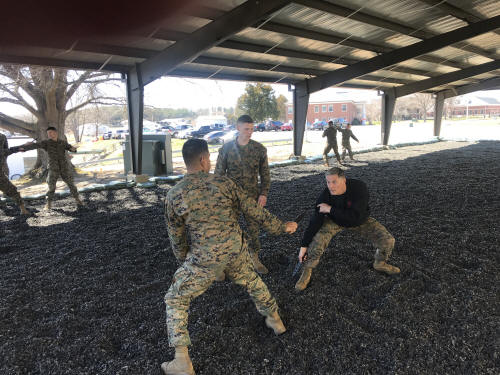 "Training" – USMC photo courtesy of Combat Camera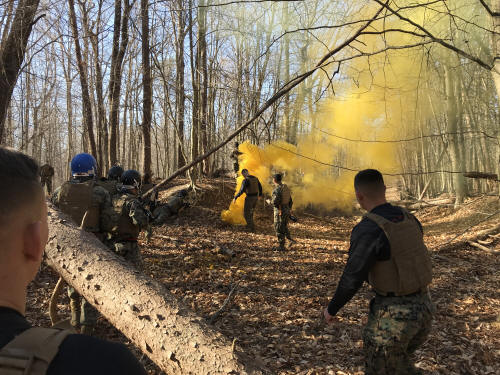 "The Battle Course" – USMC photo courtesy of Combat Camera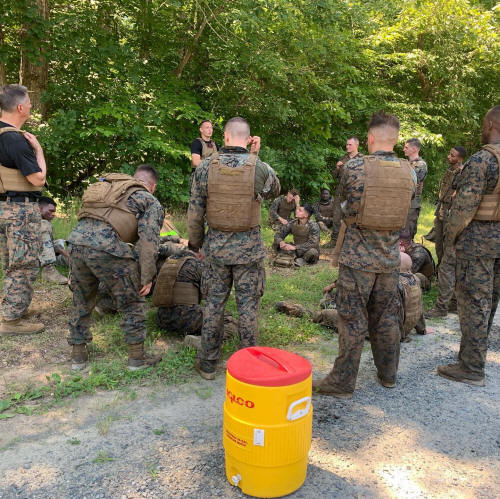 Marine leader giving a "Tie-In" during the Battle Course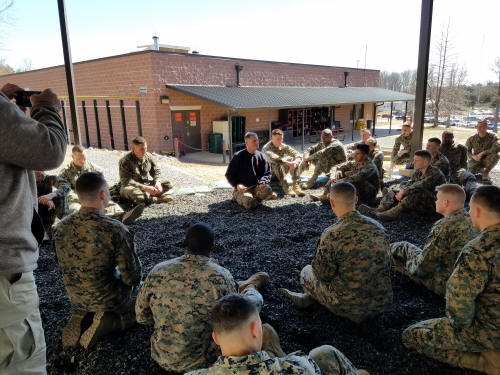 "Talking Ethical Warriorship" – USMC photo courtesy of Combat Camera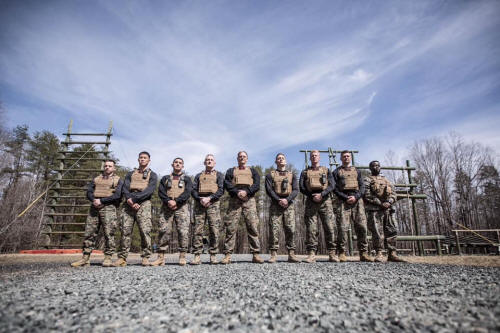 MCMAP Staff Instructors 2019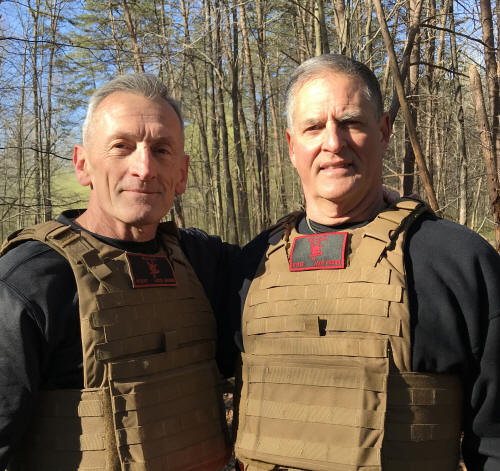 MCMAP Director LtCol Joe "Joe Marine" Shusko retired in 2019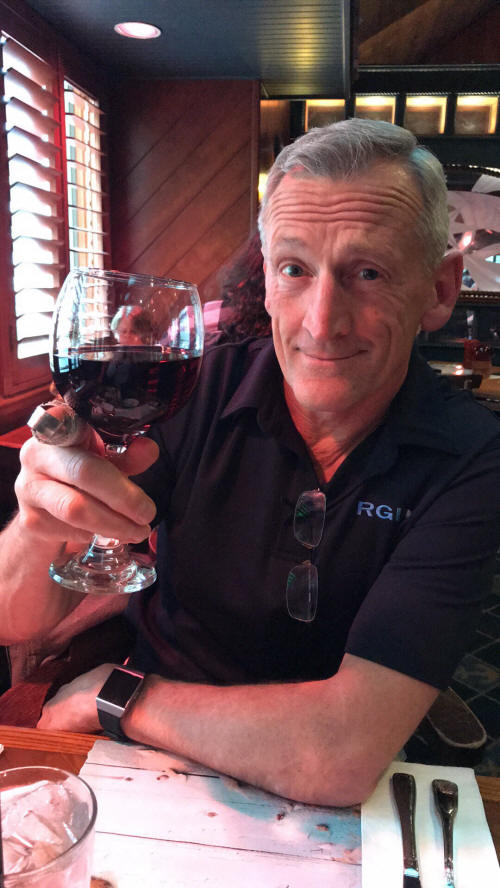 Fair winds and smooth sailing my friend!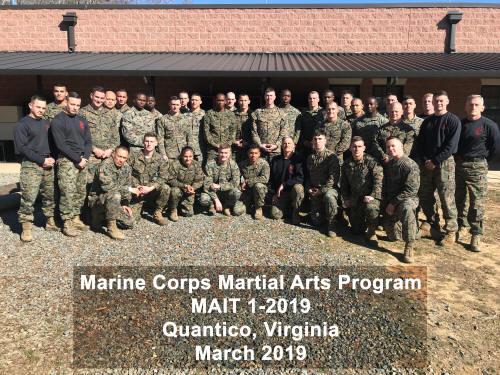 "Marine Ethical Warriors" of MAIT 1-2019 – USMC photo courtesy Combat Camera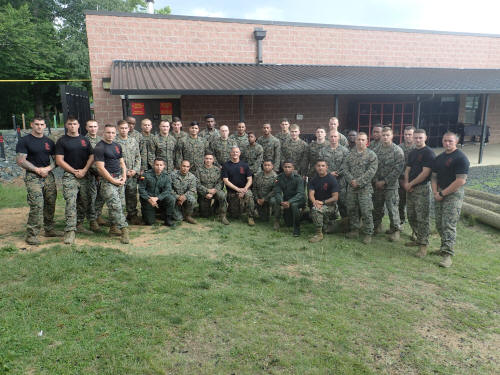 MAIT 2-2019 – USMC photo courtesy of Homer Brett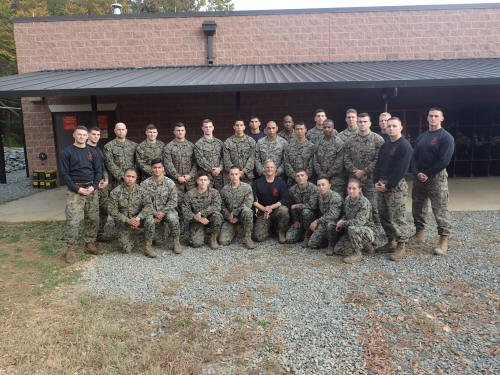 MAIT 3-2019 – USMC photo courtesy of Combat Camera
There are more photos here. And check out this video on our Marine Ethical Warriors if you haven't already.
Want to help our wounded warriors?

Check out my favorite charity:
Project Healing Waters.


For several years now I have been talking about Resolution Group International. As you may know, RGI is made up of military and law enforcement professionals who teach conflict de-escalation under stress. The RGI curriculum extrapolates on the work I have done with Robert L. Humphrey and the Marines in the areas of ethics, conflict communication, physical protection skills and leadership. We had more RGI Conflict Resolution Courses in 2019 for Police Officers and Park Rangers in New Jersey.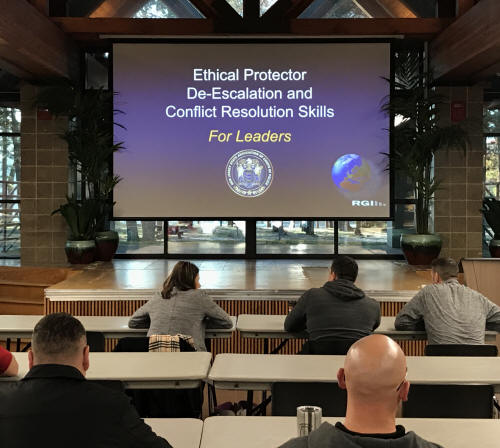 The RGI Ethical Protector Course consists of more than just sitting around looking at PowerPoint presentations. We work on real protector skills, such as defensive tactics and physical fitness. As we like to say "you can't buy memories like these!"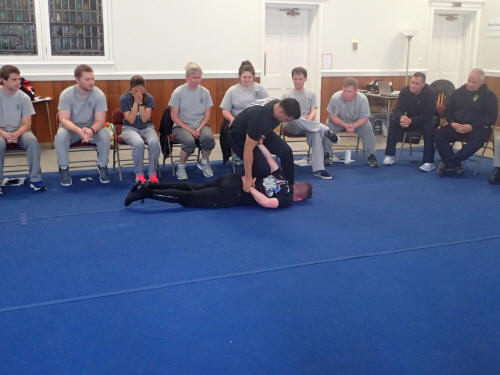 Police officers practicing take downs - the RGI way.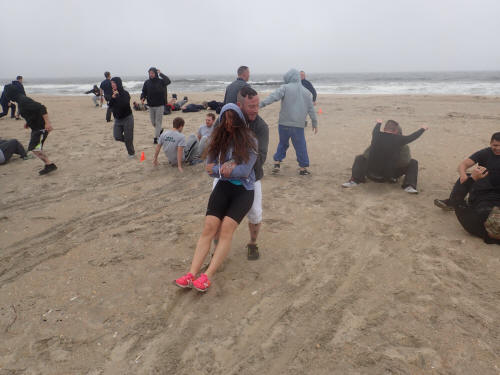 RGI Combat Conditioning for protector professionals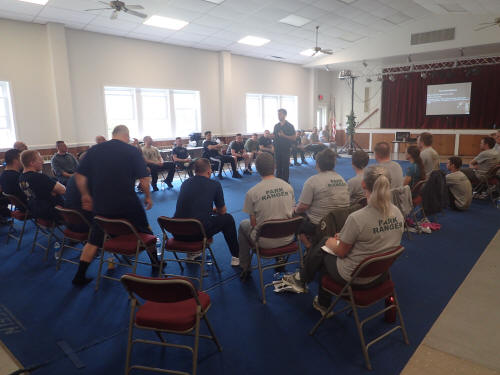 RGI Instructor and MARSOC Marine Alex Carney – The Protector Mindset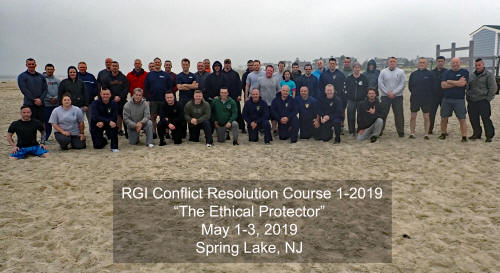 The traditional RGI Beach Picture

If you haven't already, check out RGI instructor, Joe "Marine" Shusko's book, "Tie-Ins For Life." Tie-ins are stories that teach values and inspire moral behavior. The book contains many of the values stories we tell at both MCMAP and RGI training. Available here.
I worked with two other NNJ RGI associates, Toms River NJ Police Chief Mitch Little and Marine Corps Special Operations (MARSOC) Officer Alex Carney, and Stockton University to provide de-escalation as part of the NJSACOP Leadership Program For Middle Management. We did four more of them in 2019. And we have big plans to expand the Ethical Protector professional development program in 2020 – so stay tuned!
If you are interested in learning how to apply the Ethical Protector training as a law enforcement or military professional – or just want to explore the concept with the top-notch RGI instructors in a hands-on setting as a civilian warrior – check out RGI Events here.

Another project that RGI has been involved in for the last several years is with Lake Highland Preparatory School in Orlando, FL. This school is the first school in the country to adopt the RGI Ethical Protector concept as part of their school culture. They have two Ethical Protector Societies – Blackwatch for the guys, and Dara for the gals. We have built a mentor corps within the school by training society members in leadership, ethics, fitness and protection skills. This is done at our friend, retired Major General Tom Jones' Outdoor Odyssey Academy in Boswell, PA, every June. Participants include Blackwatch and Dara members, as well as, a dedicated group of teachers who also undergo the training. Outdoor Odyssey's motto is "Leadership Through Adversity." Believe me, its challenging!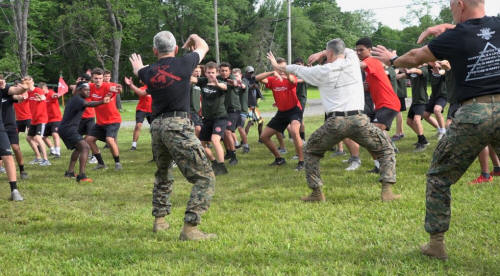 A new cadre of Ethical Protectors at Lake Highland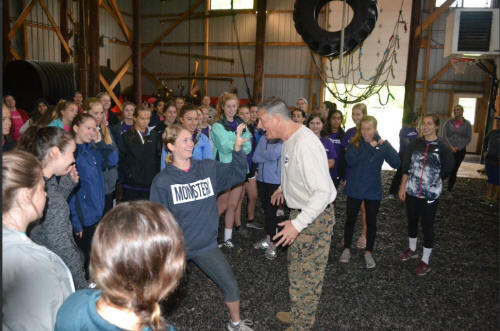 Ladies, too, of course!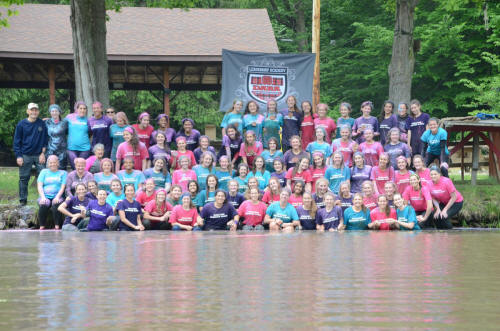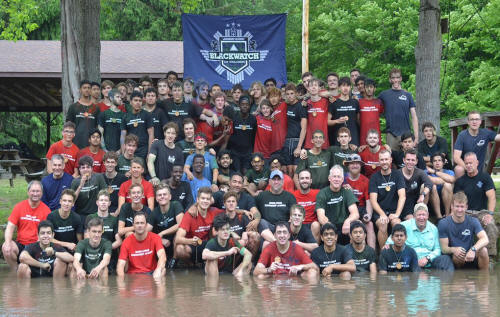 Lake Highland Dara and Blackwatch Societies after the "Crucible" final event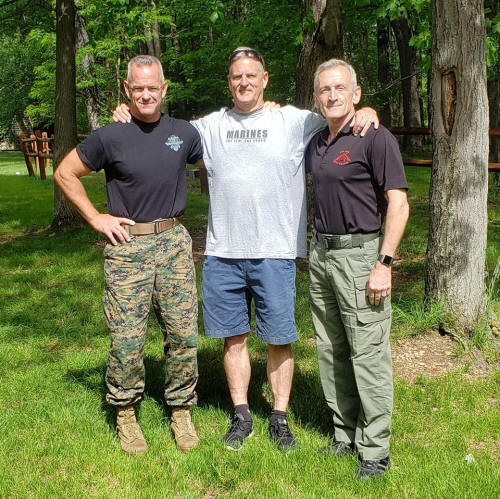 Marine brothers Joe Shusko and Mick Davis (Lake Highland dean of discipline)
It all starts at Outdoor Odyssey, but the secret to Lake Highland's success is sustainment. Dara and Blackwatch meet frequently during the school year and members also mentor the younger students into the Lake Highland Ethical Protector culture. It's all about the students, and their results are amazing. Disciplinary problems and bullying are way down, academics and athletics are off the charts! All American educational institutions should take note. If Lake Highland can do it, why not other schools?
I look forward to heading back to Outdoor Odyssey in June to work with a new batch of Lake Highland Ethical Protectors!

Played a bit of music again in 2019. Our band, "Rogues on the Run," had another fun year.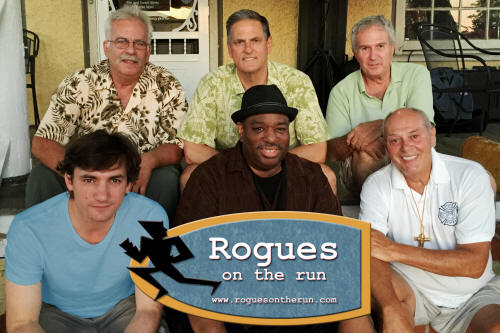 Rogues on the Run - Mario, Jack, Phil, Ilya, Vel and Rob.
We did a bunch of gigs, but one of the most fun ones was the wedding reception of Bernard and Celia Purdie. Some pretty big names were in the house and they sat in – including Liberty DeVito, who played with Billy Joel, and many others!

With the injured Mrs. Purdie at their wedding reception - congrats!
We even got another one of my guitar heroes, George Naha, to sit in with us this year.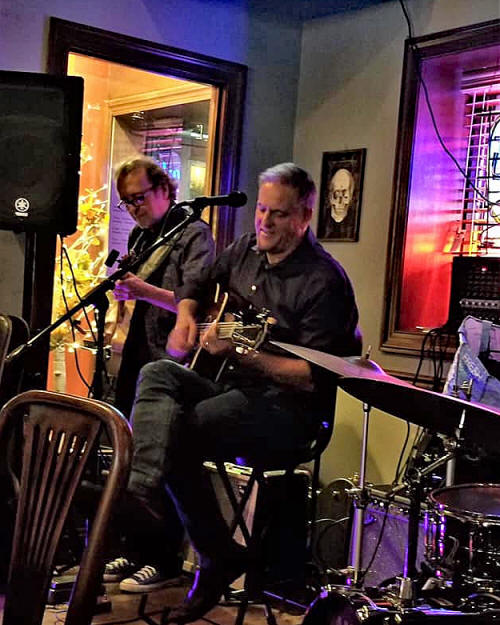 With George Naha at UVA's in Bradley Beach

As you may know, legendary drummer, Bernard "Pretty" Purdie asked me to produce his next album. We are pretty much finished. I wrote songs that cover a wide variety of the different kinds of music Bernard has recorded over the years. Some top-notch (and pretty famous) musicians contributed.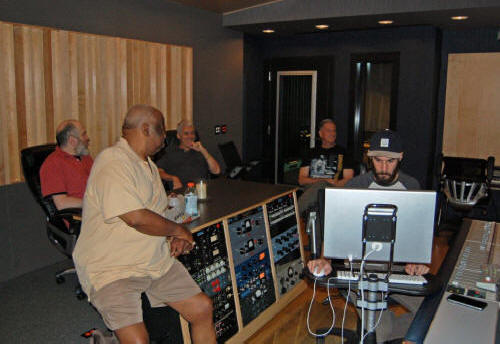 In the studio with Bernard Purdie!
Bernard has a new manager and we are negotiating with record companies. Cross your fingers that the record will be out in 2020! (I know, I keep saying that. Hahaha. Show biz, ugh!).
And don't forget to pick up Bernard's biography. It's a wonderful read!

One of my other crazy hobbies, as readers of this yearly message may know, is bodysurfing. For decades, now in New Jersey, I have swum with a cadre of "watermen" who meet early every summer morning to work out, swim and body surf. And guess what? I'm the youngest! The picture below features legend Cecil Lear (89), Ken Cassie (83) and Raoul Cordeaux (70). Craig and Jennifer joined us for a Holiday breakfast.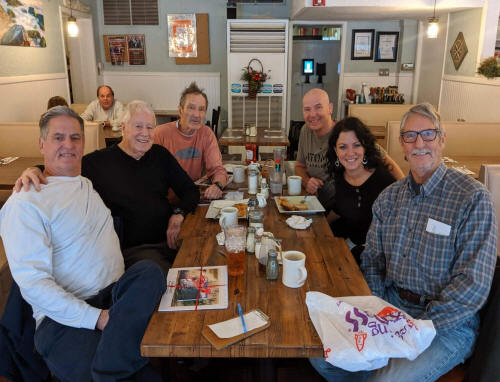 With (l-r) Cecil, Ken, Craig, Jen and Raoul
As mentioned above, I've also taken up long-distance ocean swims. Here is Alex and me at the Sea Girt 1-mile swim (guess who beat who

).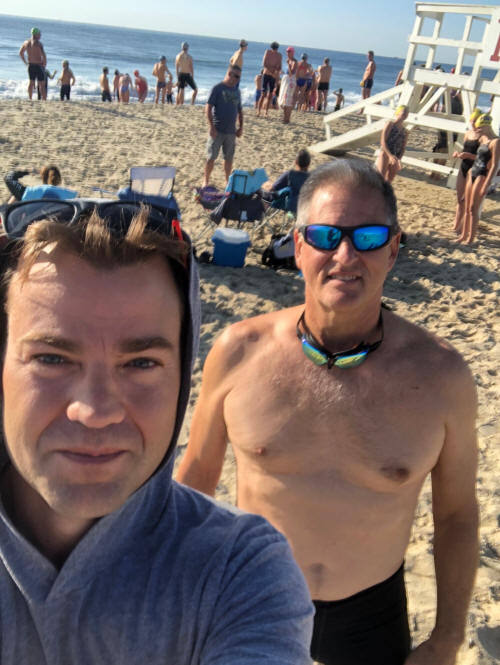 With Alex, Sea Girt 1 mile race 2019

Whew!! Another year come and gone. So, what does 2020 look like for us?
When I was in Japan, Sensei painted for me a couple of kanji of his choice. He painted me this:
I'm sure everyone recognizes the nin of ninpo. It is similar in style to the one that he did for David, above.
But, check out the one he did for me in 2008!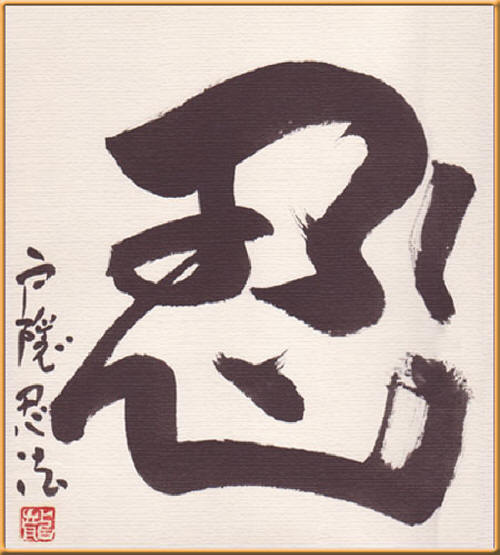 "Nin"
Profoundly different! And, to me, it mirrors an evolution in the elegance and economy of Sensei's taijutsu over the last 15 years. I am inspired to follow that subtle lesson for my next 15 years of training – and beyond!
Next, he painted rei.
Most of our buyu recognize the word rei. The kanji rei (礼) means to show respect and is one of the seven virtues of the samurai. We say it as we bow to each other before, during and after training. But rei, using a different kanji, is the rei of the current Japanese era Reiwa (令和), which began on May 1, 2019. Coincidence?
And look at the tail Sensei put at the end of 礼. Doesn't it now look a little like a rat? Hahaha. As usual, Sensei fuses so many possible meanings into his kanji.

So on to 2020!

As you may recall from last year's essay, my martial arts name "yama tora," or "mountain tiger" (山虎), which I had for many years, changed to "kai ryu" (海龍) or "sea dragon." I was curious to see if this name change would subtly change my approach to my martial arts practice and life. By the way, at about my same age, Soke changed his name to 白龍翁 (byakuryu-oh or venerable white dragon).

Well, I certainly felt different this past year in a hard-to-explain way. I don't know whether it was the name change. Perhaps...

But, I really think the changes stem from my close observation of Sensei's movements and attitudes and my study of the concept of

"mutō dori (無刀捕))." Again, in last year's essay, I spoke as clearly as I could about what mutō dori might mean. Read it again, if you don't remember. Here's the link.

Reading it again, myself, I really don't have anything to add –

in words. But the feeling and sensibility of the concept has certainly evolved for me. And how do you describe a feeling? Inadequately, at best. But, let's train together in 2020 and I'll try to share my feeling with you if you like. All are welcome, no one is invited.

One of my challenges is that I am often

called upon to train Marines for combat and police officers for service in some of the most dangerous cities in America. I have a very short amount of time to give these warriors and protectors a sense of things it took me literally years to figure out. I try to create mental metaphors and easy physical drills that might give them a shortcut to grasping a sense of important concepts I have spent a lifetime learning. I'd try anything if it might make them personally safer and better protectors of others.

Maybe, I am a little successful. Sometimes. I can never be sure.

One of the things I have been talking about recently is how to train one's mind for dangerous situations. I don't mean just learn new information, but how to actually make the brain more efficient and resilient under stress. I'm no brainiac, but I've run my theories by some people who are, including brain specialists, and they agree with some of my theories. So, let me share my thoughts and see what you think.

Let's start off with the familiar martial art theory of the "human trinity." It is said that we are made up of three parts: mind, body spirit. The spirit part consists, I think, of all the things that make us alive, or in the case of warriors and protectors, keeps ourselves and others alive. It is the will to live, the calling to know ourselves as the protector of others. It is the fighting spirit and the will to survive. All of these things and many others that are hard to articulate, but are felt.

The physical is easier to put into words. It's our bodies and what we do with them, also our environment. For warriors and protectors, it is our training and, ultimately, our actions.

But the mental...hmmm. You can say it pertains to what goes on in our brain, what we think, or what we study and learn. But, I have been thinking that it may be way more than that. Especially, as it pertains to our protector calling, and dealing with stress, uncertainty and violence.

I think it goes without saying that we now know more about the functioning of the human brain, particularly under stress, than our warrior forefathers did. Consider the illustration below.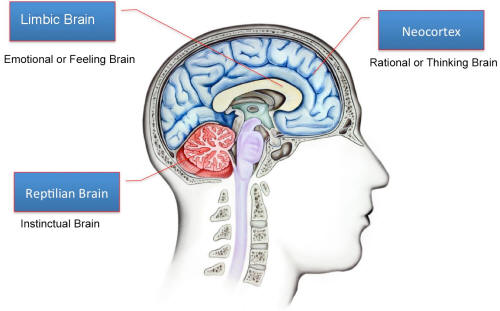 The brain is certainly much more complicated than this, but for our purpose of trying to understand the "mind" piece of the human trinity, we see that the brain is made up of three basic parts or functions. We have the stem or "reptilian" part of the brain. It is the "oldest" part of the brain and it controls our autonomic functions (breathing, heartbeat, etc.), as well as, our "instinct-like" behaviors – fight or flight, for example. It can be very important for our survival but can't always be relied on to make optimal choices under confusing conditions.
Then we have the limbic part of our brain. It's where our feelings and emotions come from. It is a very important part, obviously, but it is not always rational.
Last, we have the neocortex, or as the name suggests, the "newest" part of the brain. This is where we can solve complex problems and make rational decisions. Its power is what separates us from the reptiles and even the other bigger-brained mammals.
So, which one serves us best as martial artists? Well, we need all three parts, certainly. We need the autonomic and survival skills of the brain stem. We need the feelings and emotions of the limbic brain, as they may be our connection to the "spirit" part of the mind-body-spirit trinity.
But it is the neocortex, and the ability to access it under stress, that is ultimately the most vital functioning area of the brain for warriors. Let me explain my thinking...
I'll use an example. Getting caught in an ambush. Tactically and (this is important) counter-intuitively, when ambushed you must attack toward and through the ambusher, collapsing the space. What does your reptilian brain want to do? That's right, it wants to flee: you are being attacked, run! How about the limbic brain? It's not helping, its screaming, "we're all gonna die!"
And if you listen to either of those brains, the limbic is right. You're gonna die. So, you need to somehow override them. I call it toggling. You need to toggle "forward" to your neocortex, because the secret to your survival in this deadly situation is to do the counter-intuitive thing. You must press forward. Not run. Nor freeze and go all emotional. Attack! And the warrior, when he has trained properly, has this ability to toggle into the cool, detached, problem-solving part of the brain. And for the vast majority, it isn't even a little bit easy. Not under stress. It takes practice, practice, practice. Mind-numbing repetition. But even that is just a metaphor, because only two-thirds of the brain goes numb. The other third, the neocortex, sharpens. Things slow down, things become clearer. That is the combat mindset. The protector mindset. If you are not aware of this process, if you don't, then, practice consistently and repetitively, you cannot expect to be able to toggle swiftly and effectively (and survive) in the event of a violent attack. This is what I have come to believe.
In the Marines we did the most simple things over and over: draw, aim and dry fire weapons, change magazines, experience hardship, adversity and loud noises. Over and over and over. That's why most Marines, when the real thing happens, can toggle into that place in the brain where their training is stored. And act!
OK, what if you have never had Marine training or something similar? Let's talk about just your average everyday training. Here's maybe a more accessible example. Leverage. You are doing an arm bar. It's not working. You panic. Maybe you wish you could just disappear (brain stem), or get frustrated, angry and/or embarrassed (limbic). You freeze your feet and try to muscle it until it works. But it doesn't. Your partner is too big or too strong (or a jerk). Fail.
Why? Because your brain stem and limbic brain don't do levers. Levers are counter-intuitive. Push down to lift something up. Pull up to force something down. Left is right. Right is left. A powerful, powerful tool. Levers are something only a human being, with a neocortex, can imagine, much less use.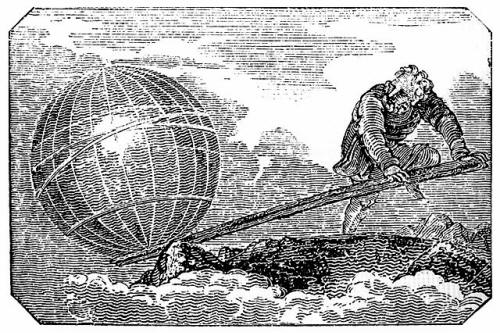 "Give me a place to stand, and a lever long enough, and I will move the world." – Archimedes
I can't say that this is the most scientific explanation of how the mind works under stress and why slow, repetitive, accurate practice is vitally important for the martial artist. But I believe this idea to be fundamentally sound, and it is important to grasping what is meant by "mind," in the martial artists' "mind-body-spirit" trinity.
This ability to toggle, I believe, may also be a key to understanding – and moderating – the epidemic tribalism that seems to be infecting people in our country and around the world.
We seem to be inordinately protective of our feelings and relative values, often irrationally fearing or detesting people who are different from us. We see this phenomenon between people of different colors, races, religions, political views, etc. We sometimes see great hate and even violence between followers of different sports teams. It's not new, but why is this?
It's because when we see people who are "not of our tribe," we have hundreds of thousands of years of experiences embedded in our DNA, brain stem and limbic brain that whisper to us: "Danger, danger. Must fear, hate, despise, de-humanize. It's the only safe way." And for thousands of years that may have been true. But not necessarily so. And we can now figure out if this "other" person is really a danger or not – if we choose. But not without our neocortex. It requires a counter-intuitive "toggle." "Wait, I see that he is another color, or speaks differently, or prays differently, or is wearing the jersey of my team's archrival. But think, now. Analyze the tactical situation. Observe his behavior. Is he really a danger? Must I disrespect, demonize or dehumanize him?"
Maybe not. But it takes practice. Here's some homework. The next time you see a person that is obviously "not of your tribe," and who you ordinarily (admit it!) might instinctively dislike or distrust, see if you can take a second and toggle to that problem-solving part of your brain and re-evaluate. Stay tactical, but see how long it takes you to toggle. You may be able to see that person in a different way. Of course, they could possibly be dangerous, but maybe not. Let your neocortex decide. Now practice.
And check this out! Guess which part of the brain is most effected by stress? The limbic part. When you experience a disturbing event, a signal is sent that causes a fear response in the limbic brain, especially. People with PTSD tend to have an overactive response to stressful events. When the limbic brain is overactive, it's hard to think rationally. It is your neocortex that helps regulate emotional responses triggered by the limbic brain. An unregulated limbic brain combined with an underactive prefrontal cortex creates a perfect storm for PTSD. Without the ability to toggle out of the limbic brain into the neocortex, you not only set yourself up for tactical failure, you risk post-traumatic stress! So, we need to practice toggling. In our training and in our lives.
Training the brain, along with the concept of rei, will be our theme for 2020: honor and respect the practice.
Yo Yo Ma, the great cellist once said: "What all string players have in common is that if we don't play for awhile, we actually start from ground zero." I believe that to be true for us martial artists, as well.
FYI, here are "The 12 Rules of Practicing" from the PBS series, "Marsalis on Music" where Wynton Marsalis talks with Yo-Yo Ma about hating to practice, doing it anyway and how you can do it correctly:
Seek out instruction: It could take years to figure out what a good teacher could show you quickly.

Write out a schedule: Include fundamentals always.

Set goals: Chart your development. Challenge yourself.

Concentrate: Develop the ability to FOCUS. Do not "just go through the motions." If you can't concentrate, stop and come back later.

Relax: Practice Slowly. Play at a slow tempo, then increase the tempo each day.

Practice Hard Parts Longer: Confront your deficiencies.

Play with Expression: Give yourself over to what you are doing. Do everything with the proper attitude. Do not be a cynic. The expression you play with is your style.

Learn from Your Mistakes: Do not be too hard on yourself. If you make a mistake, it's not the end of the world.

Don't Show Off: Expression, not tricks or gimmicks. Showing off misses the point of group playing. Always play music. Those who play for applause, that's all they get.

Think for Yourself: Respect your teacher, but think things through for yourself. Methods are just a way to do things. You may think of better ways.

Be Optimistic: How you feel about living in the world is who you are. There's nothing worse than pessimism coming through your instrument. Things will get better.

Look for Connections: The more you discover similarities in things that seem to be different, the greater the world you can participate in. No matter what you're doing, everything is connected.
I happen to be a musician, but you don't have to be one to see that music and martial arts have a lot in common. They are both arts after all! As is painting.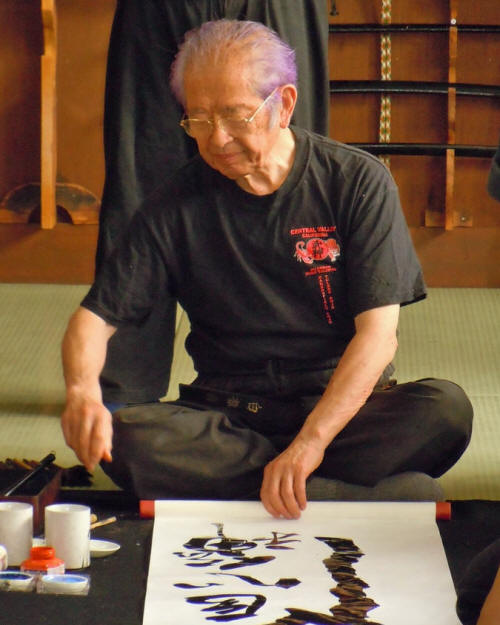 Masaaki Hatsumi - The Artist

So, in 2020 let's honor our practice, bow to our art (rei!), keep toggling and keep going always!

Ganbarimashou!


Jack