New Year's Message
January 1, 2018
Dear Friends:

Happy New Year buyῡ – welcome to the Year of the Dog!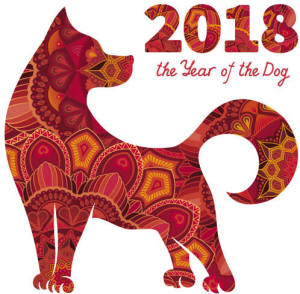 Ranking as the eleventh animal in Chinese zodiac, Dog is the symbol of loyalty and honesty. People born in the Year of the Dog possess the best traits of human nature. They are honest, friendly, faithful, loyal, smart, straightforward, venerable and have a strong sense of responsibility.
Having a dog, myself, I agree with that description. Excellent traits in a human being, also, don't you think? I plan to do my best to exhibit them in 2018. Join me?

So what happened this past year? Plenty, as usual!
In terms of international travel, my first stop was the Italian Senryukai. Hosted by my friends Giuseppe (Pucchi) and Aurelio Costa, it was a combination of training, eating, sightseeing, eating, eating and eating!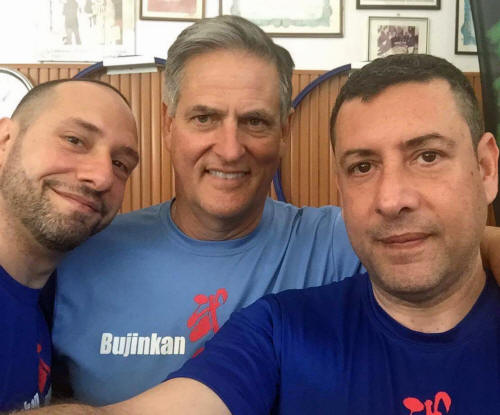 Aurelio, Jack & Pucchi!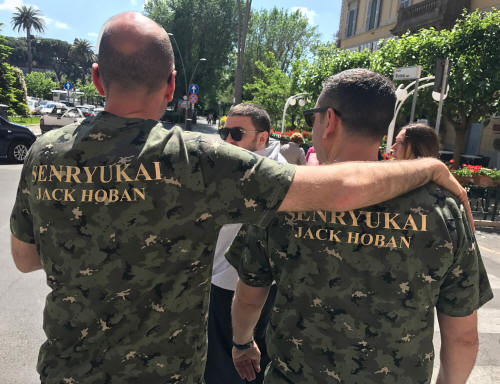 Francesco & Pucchi modeling the Senryukai T-shirt
The t-shirt they made for the training was a bit much – but, it certainly had the stylish Italian flair!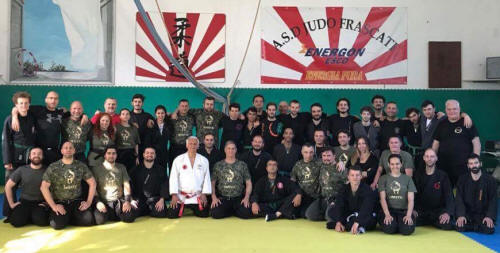 Senryukai Training in Frascati, Italy.

I attended the BuyuKai in July at Castle Kattlenberg in Germany again last summer. I have participated in BuyuKai a number of times. This is a GREAT event and I encourage all my martial arts friends to attend. It is organized by Steffen & Sabine Fröhlich. I think there were buyῡ from over 14 countries there this past year – with some top-notch coaching on everything from the basics to pretty advanced stuff. Really, you MUST go.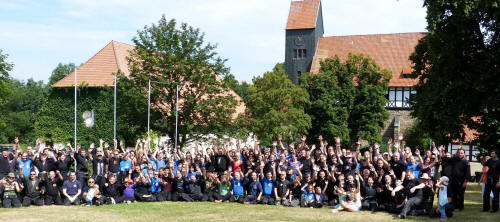 BuyuKai Germany 2017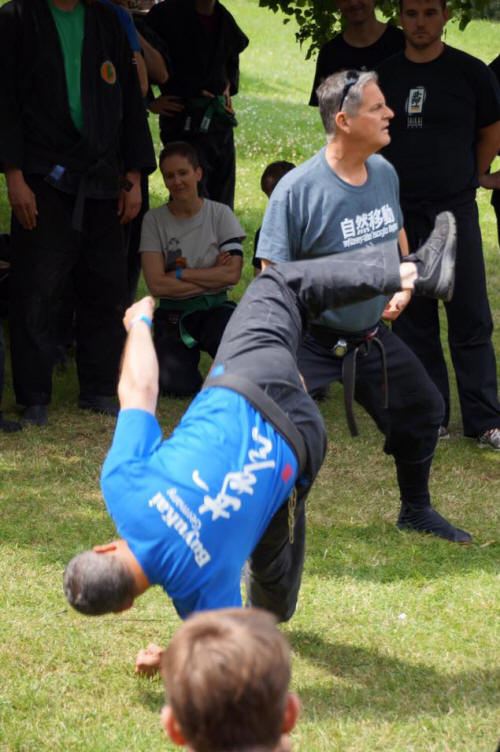 Alex & I – a little cross cultural communication!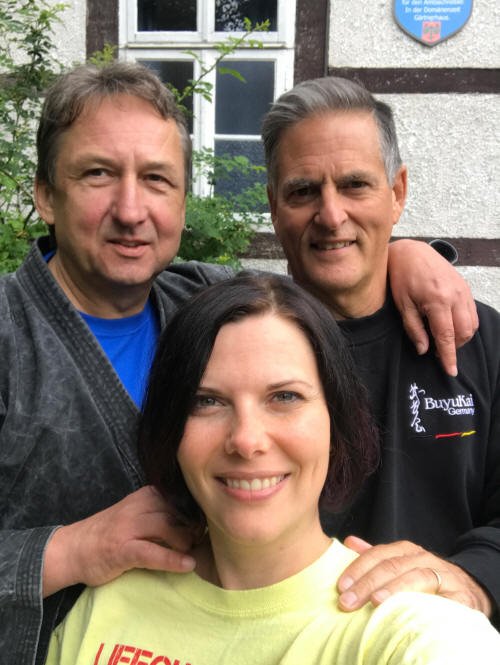 Steffen, Annette and me in Germany – buyῡ
BuyuKai info here: http://www.buyukai.de/. See you there next July!

I also went to Argentina to train with buyῡ from many Central and South American countries. I was hosted by Marcello Ferrero and "Don Juan" Manuel Gutierrez.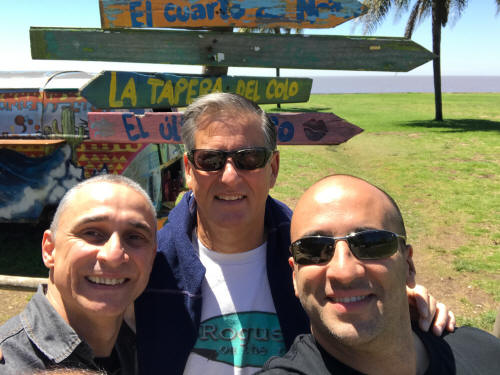 Marcello, Jack & Don Juan
The food and wine in Argentina is wonderful. Meals with friends are long and relaxed. And it was Spring in October!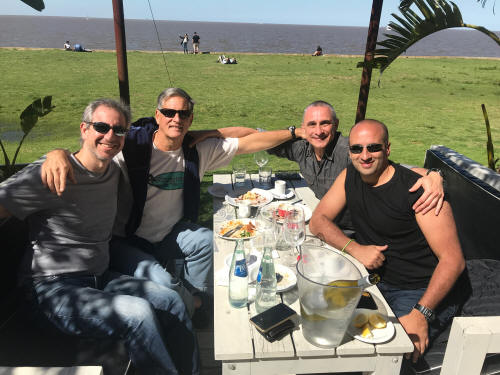 Maxie, Jack, Marcello & Don Juan on the Rio Plata for Argentinean steak and wine!
Oh, and training was awesome.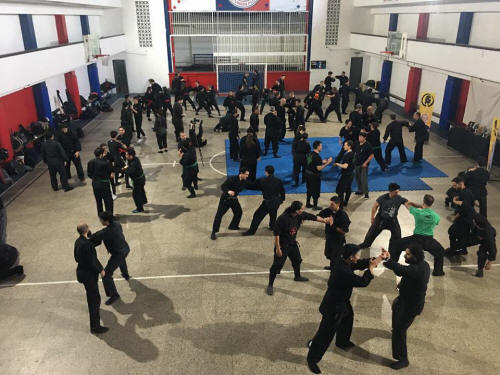 TaiKai participants in action.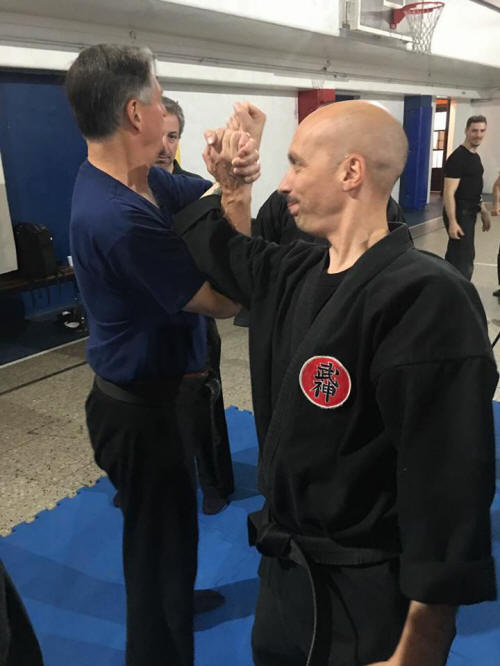 We did basics, of course, before practicing the 2017 theme of mutou dori.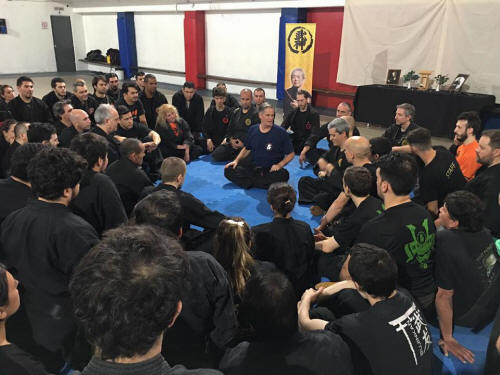 Story time!
More fun Argentina TaiKai photos are here.


Argentina TaiKai Group Shot!
Altogether a great trip. Muchas gracias a todos!

We enjoyed another Buyῡ Camp East in New Jersey. A new place – much more room inside and outside. Definitely an upgrade, although we'll miss our old spot, the site of so many camps with folks like Mark Hodel, Dick Severence and Ed Martin. We'll never forget you guys!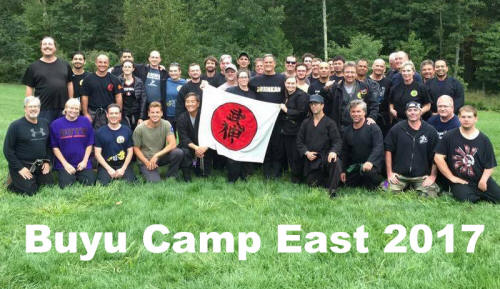 BYCE 2017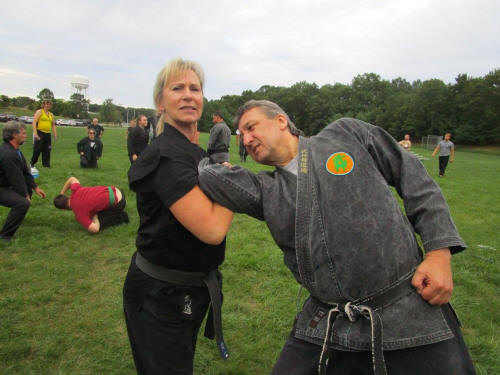 Sabine & Steffen doing self-help marriage counseling at Buyῡ Camp East.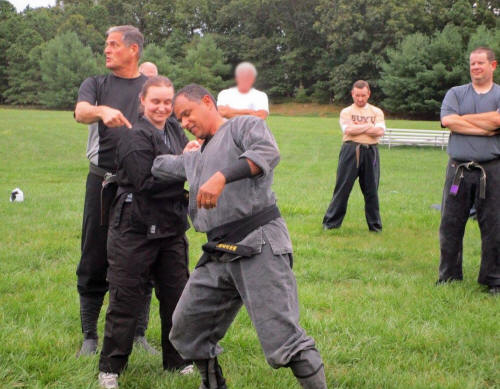 Tiffany teaching her teacher
Lot's more Buyῡ Camp East pictures HERE!!
Buyῡ Camps are a great way to connect with old friends and get the "continuing education" and inspiration that will help you "keep going" when you get back to your own, local training group. Please keep an eye on our seminar page for news about Buyῡ Camp 2018.

One of the perennial teachers at every single Buyῡ Camp we've ever had – both on the East Coast and West Coast – was Ed Martin. Ed passed away on July 13, 2017 and we will miss him tremendously. He was a great mentor to us here in the USA, as well as, people all over the world. He set an example of consistent training and told stories that taught the moral lessons of true warriorship. Irreplaceable man.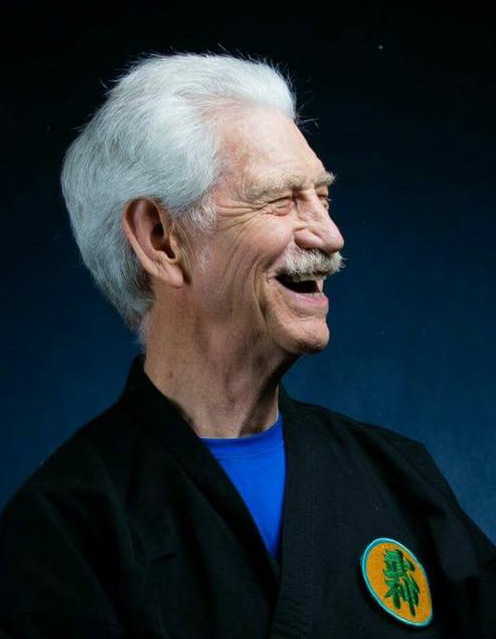 Ed Martin - "Papa-san"
Good luck, Ed, in your after-life adventures. We know they'll be amazing!

We also had training seminars in NJ, of course, and a couple in Florida. Ed Figueroa of Tampa Bay Buyu Dojo (who also trains the Orlando group) received his DaiShihan certificate in Japan this year. Congratulations, Ed!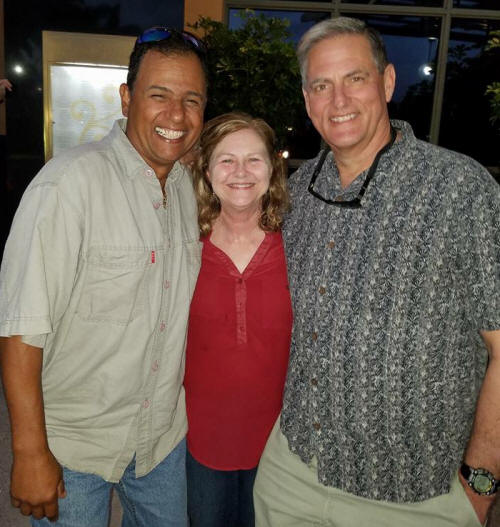 Ed, Claudia and Jack after a Tampa seminar.
I also got to train with my friend, Joe Lopez and the dedicated buyῡ of Hawaii Bujinkan.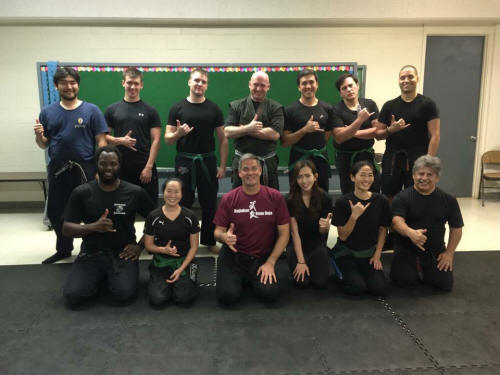 Hawaii Bujinkan hanging loose!
I am lucky to be spending more and more time in Hawaii, and it so great to have friends there to train with. Thanks, Joe! See you in 2018!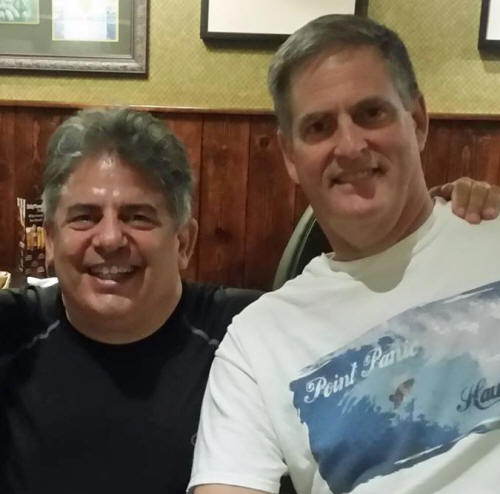 Joe & Jack 2017
And there is more about Hawaii coming up further down in the message. Warning: bucket list alert!!

I was able to visit Japan in 2017 to train with my teacher, Soke Masaaki Hatsumi. A special seminar in December commemorated the 50th anniversary of the Bujinkan. It was also Hatsumi Sensei's 86th birthday!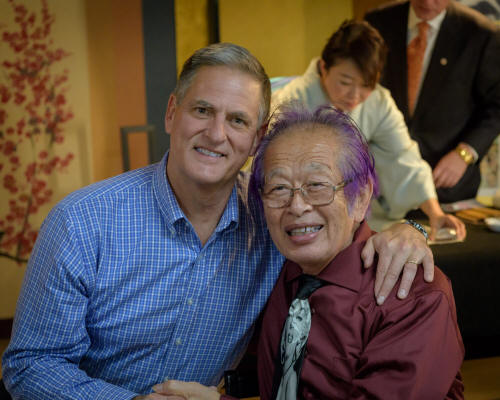 With Hatsumi Sensei at his 86th birthday celebration.
As always I met a lot of great friends and buyῡ in Japan.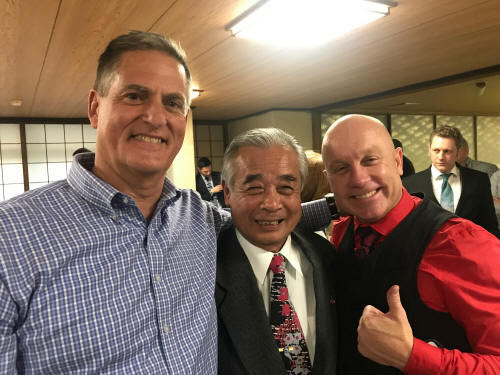 With Doug and Noguchi Sensei at the party.
Miki received his DaiShihan certificate this year and Alex passed the Go-Dan test. Congratulations, guys!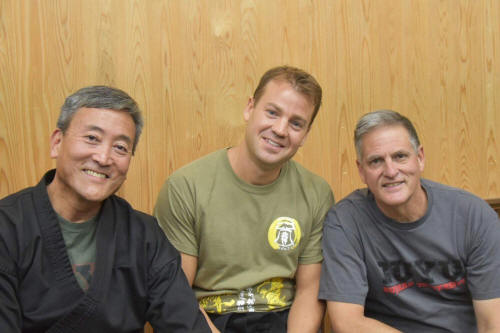 Miki, Alex and Jack taking a quick training break at the hombu Dojo in Atago.
And we always find time for the Buyῡ Dinner.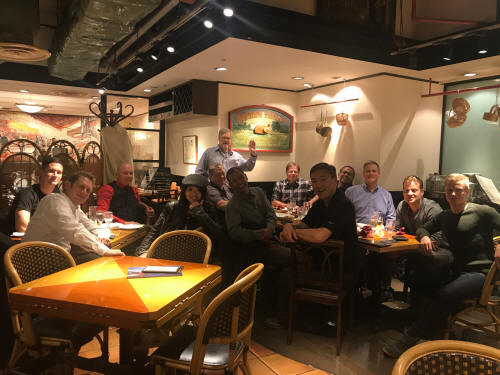 Buyῡ at Agio's in Kashiwa
And it was the late Oguri Sensei's daughter, Sayaka-chan's, birthday (she is 4th from the left). Check out her Ninja Cafe Kunoichi here.
Some of us took, what is becoming, an annual trip to the onsen hot springs in Hakone.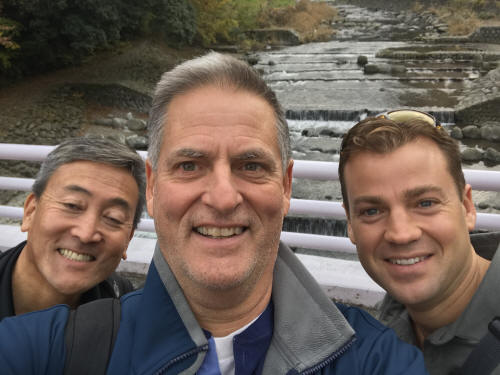 Miki, Jack & Alex in Hakone. I guess I'll shave next year...
I wrapped up the trip with some training at Rob Renner's dojo. Thanks for the invite! The irrepressible Hiromi is a talented selfie-photographer.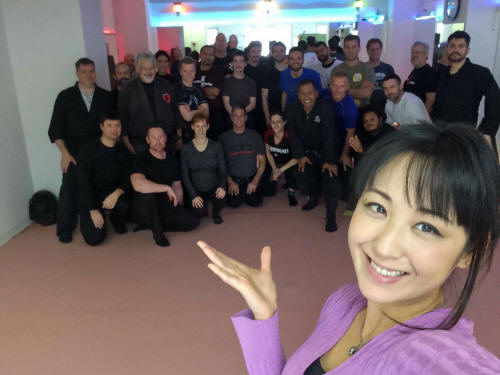 Rob, Hiromi and buyῡ training in Matsudou.
Sayonara, Japan, but I'm sure we'll meet again soon!

And there are many more pictures on our Buyῡ Facebook page here.
Check here for upcoming seminars in 2018, including Buyῡ Camp east in New Jersey next September.

My book "The Ethical Warrior," is still doing well. Click the cover if you want to read the book.
You may know that Bruce Gourlie and I wrote a follow-up book for protector professionals called "The Ethical Protector." Check it out!
And don't forget the re-release of the old videos I did back in the 90's on Bujinkan basics. All 4 videos are now on one DVD. I had a laugh looking back at some of the footage – boy I'm getting old!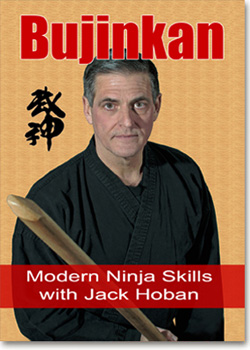 There is some pretty good stuff on there, especially for people working on the basics. And you'll see some of your favorite buyῡ on there lending a hand. You can get it on Amazon.com.

This past year I was again privileged to work with the Marine Corps Martial Arts Program (MCMAP) in Quantico, Virginia. This important program is led ably by my good friend Joe Shusko (LtCol USMC ret.). It covers armed and unarmed martial arts techniques, combat conditioning, mental training and character development.
As an American, I think you would be proud of these young men and women. They are physically and mentally tough, yet respectful and ethical. Many are veterans of both Iraq and Afghanistan. For those of you who feel called to warriorship, and are of age, consider joining them. The Marines are always looking for a "few good men." And women!
The warriors I am privileged to train with are quite physical, but are also focused on how to maintain their ethics and a "protector mindset" under the adversity of war.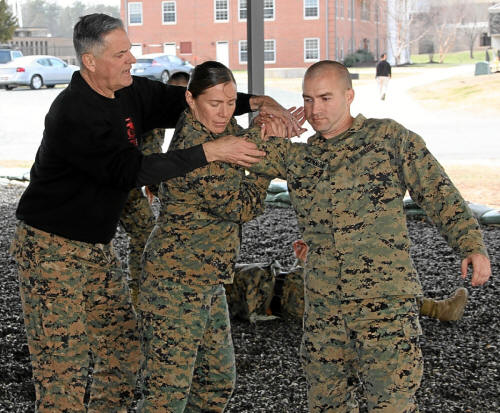 "Training" – USMC photo courtesy of Homer Brett 2017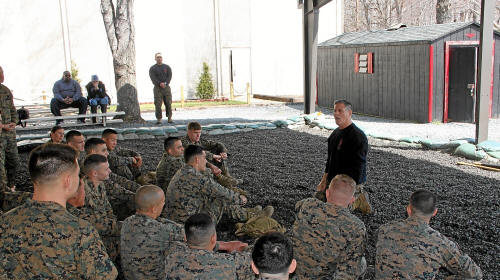 "Talking Ethical Warriorship" – USMC photo courtesy of Homer Brett 2017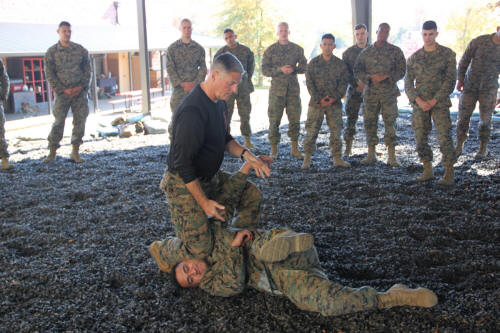 More training.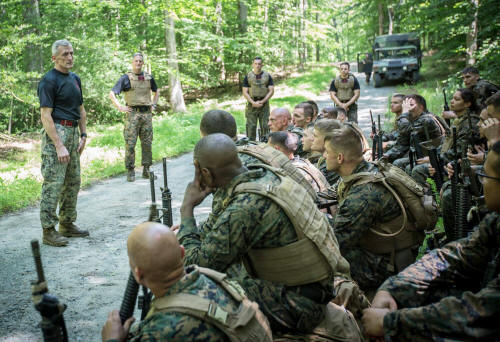 MCMAP Director Joe Shusko addressing the troops after the grueling "Battle Course."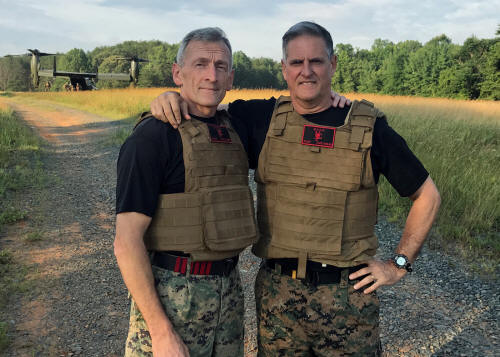 My friend and MCMAP boss, LtCol Joe "Joe Marine" Shusko (Ret) – roguish!!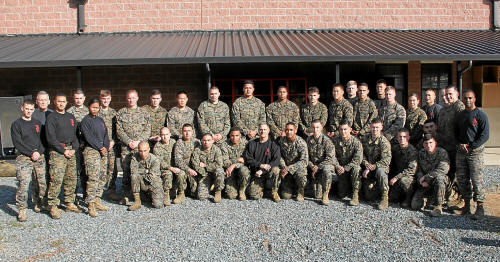 "Marine Ethical Warriors" of MAIT 1-2017 – USMC photo courtesy of Homer Brett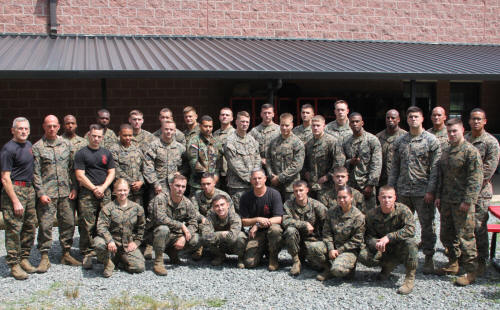 MAIT 2-2017 – USMC photo courtesy of Homer Brett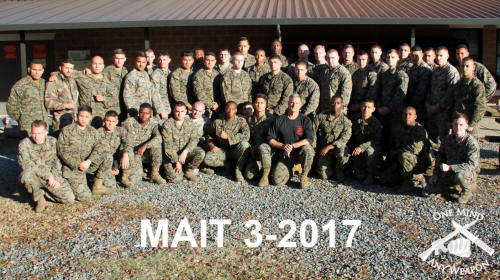 MAIT 3-2017 – USMC photo courtesy of Homer Brett
I have been involved with MCMAP since its inception in 2000. And every year I get older. But the Marines remain the same age! So, it's no wonder that, after a hard day on the Battle Course, Joe Marine and I always retire to the Globe & Laurel Restaurant in Quantico, VA for some protein and adult beverages. The G&L is a veritable museum of Marine Corps and law Enforcement artifacts. I recommend that you visit the Marine Corps Museum and then drop by the G&L for a meal and libation. Website is here.
When we were there this past October, we ran into the owner of the G&L who is a long-time hero and mentor of mine. Marine Corps Major Rick Spooner is 92 and a veteran of China, WWII (Saipan and Okinawa), Korea and Vietnam. Look up the word Gentleman in the dictionary and you'll see his picture. He is also an author.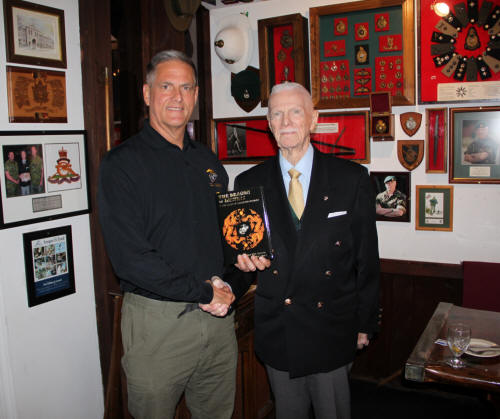 With Major Rick Spooner at the Globe & Laurel, Quantico, VA
Rick gave me a copy of his latest book The Dragon of Destiny & the Saga of Shanghai Pooley. If you love military historical fiction, rush out and get a copy. It's wonderful!
And check out this video on our Marine Ethical Warriors.
Want to help our wounded warriors? Check out my new favorite charity:
Project Healing Waters.


For several years now I have been talking about Resolution Group International. As you may know, RGI is made up of military and law enforcement professionals who teach conflict de-escalation under stress. The RGI curriculum extrapolates on the work I have done with Robert L. Humphrey and the Marines in the areas of ethics, conflict communication, physical protection skills and leadership. We had two more RGI Conflict Resolution Courses in 2017 for police officers in New Jersey.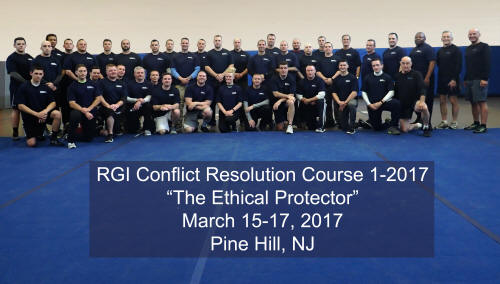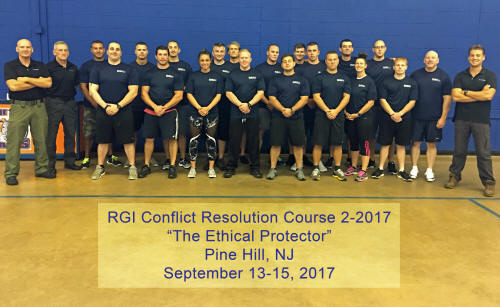 The RGI Ethical Protector Course consists of more than just sitting around looking at PowerPoint presentations. We work on real warrior skills, such as defensive tactics and physical fitness. As we like to say "you can't buy memories like these!"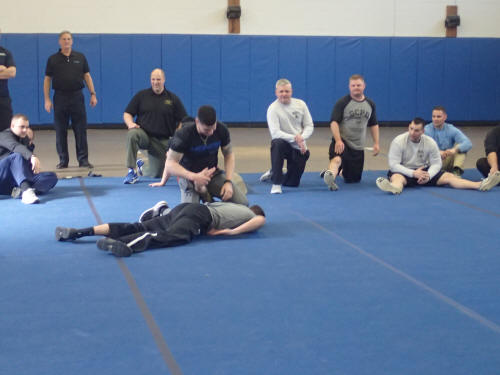 Police officers practicing take downs - the RGI way.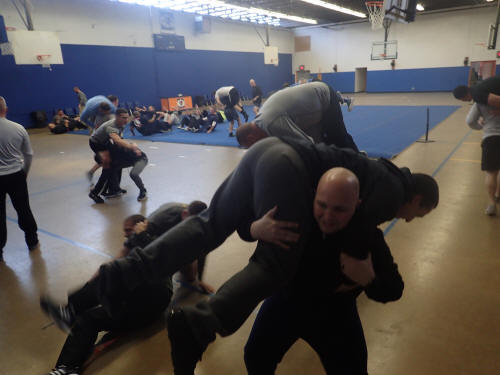 RGI Combat Conditioning for protector professionals
And what would an RGI course be without Joe Shusko sharing his patented "Tie-Ins." Tie-ins are stories that teach values and inspire moral behavior.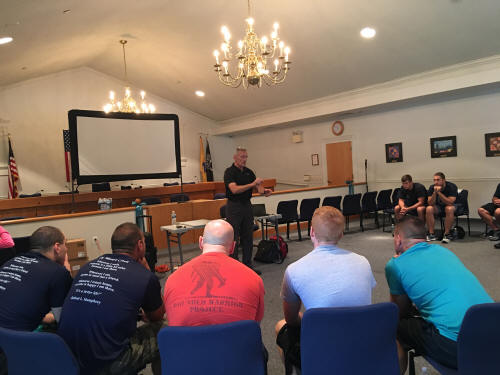 Joe Marine sharing his Tie-In values stories with NJ police officers
If you haven't already, check out his book, "Tie-Ins For Life." Available here.
We also had two new associates join RGI: Toms River, NJ Police Chief Mitch Little and Marine Corps Special Operations (MARSOC) Officer, Alex Carney.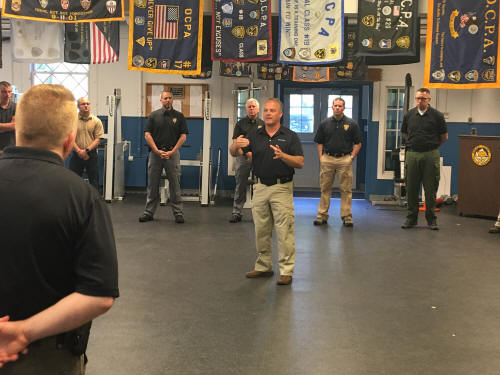 Mitch Little leading from the front.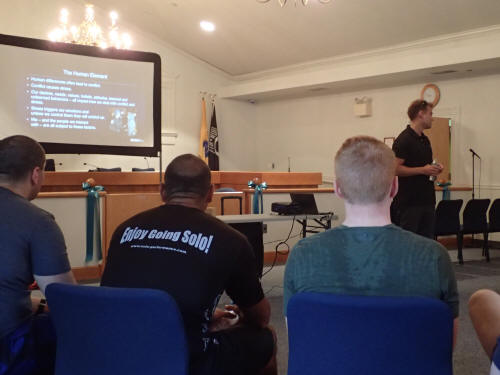 Alex Carney sharing insights on how to function under the stress of combat.
Welcome aboard, Mitch and Alex. We are proud to have you with us!
I also did several workshops for senior-level law enforcement personnel on ethics, leadership and conflict de-escalation. We are just getting warmed up and RGI is poised to do even more cool things in 2018.
If you are interested in learning how to apply the Ethical Protector training as a law enforcement or military professional – or just want to explore the concept with the top-notch RGI instructors in a hands-on setting as a civilian warrior – check out RGI Events. And there is more news and lots more pictures on our RGI Facebook page here.

Another project that RGI has been involved in for the last several years is with Lake Highland Preparatory School in Orlando, FL. This school is the first school in the country to adopt the RGI Ethical Protector concept as part of their school culture. They have two Ethical Protector Societies – Blackwatch for the guys, and Dara for the gals. We have built a mentor corps within the school by training society members in leadership, ethics, fitness and protection skills. This is done at our friend, retired Major General Tom Jones' Outdoor Odyssey Academy in Boswell, PA, every June. Participants include Blackwatch and Dara members, as well as, a dedicated group of teachers who also undergo the training. Outdoor Odyssey's motto is "Leadership Through Adversity." Believe me, its challenging!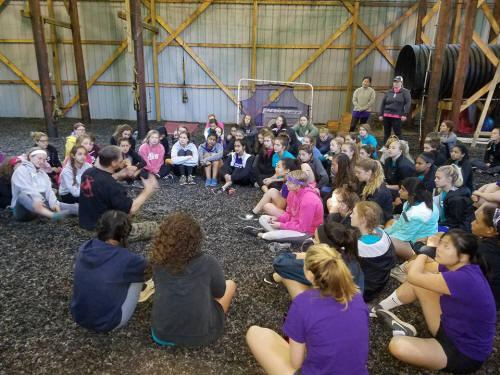 Protector training with Dara.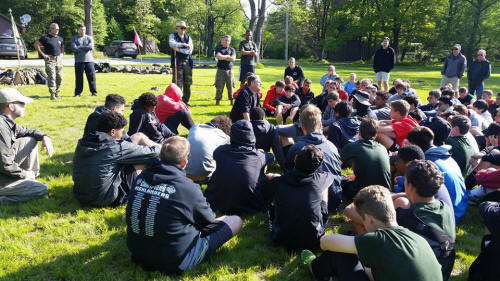 Talking leadership and ethics with Blackwatch.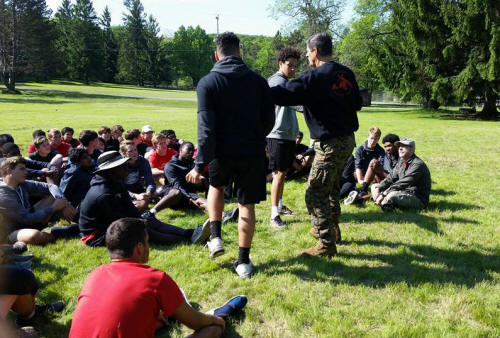 RGI De-Escalation Training with the Blackwatch Ethical Protectors.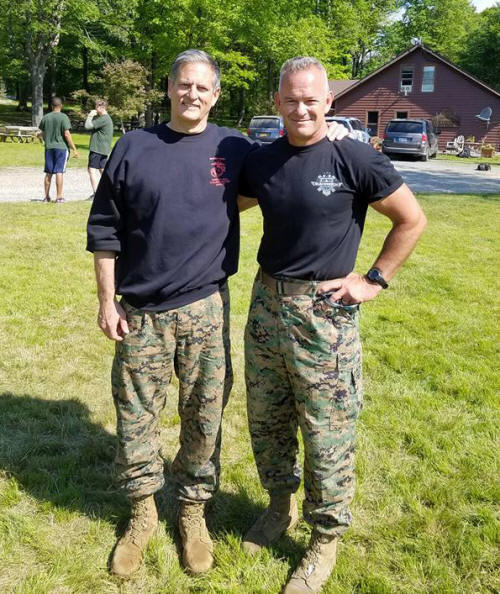 Lake Highland Dean of students and my friend, LtCol Mick Davis, USMC (ret.)
It all starts at Outdoor Odyssey, but the secret to Lake Highland's success is sustainment. Dara and Blackwatch meet frequently during the school year and members also mentor the younger students into the Lake Highland Ethical Protector culture. It's all about the students, and their results are amazing. Disciplinary problems and bullying are way down, academics and athletics are off the charts! All American educational institutions should take note. If Lake Highland can do it, why not other schools?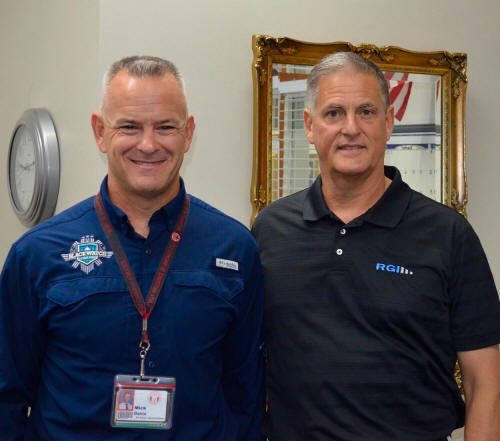 Mick and me - sustainment is the key!
Lake Highland invited me back in November to discuss the philosophy behind the Program with the students, teachers and parents. I received a warm reception and look forward to heading back to Outdoor Odyssey in June to work with a new batch of Lake Highland Ethical Protectors!

Played a good bit of music in 2017. Our band, "Rogues on the Run," had another fun year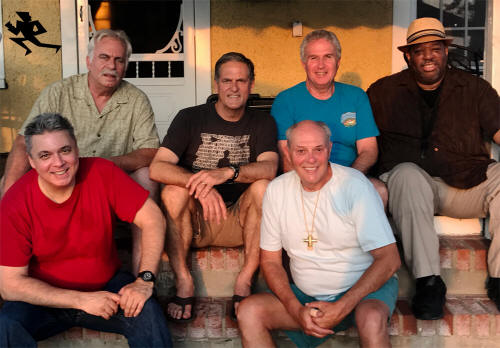 Rogues on the Run
Mario, Jack, Phil, Vel
Bobby and Rob.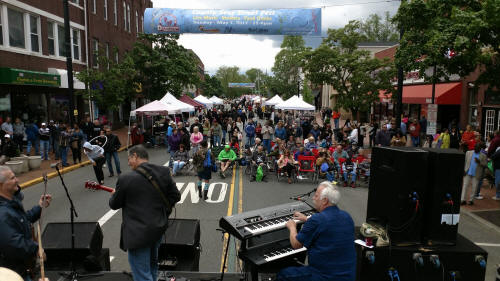 Rogues, LIVE!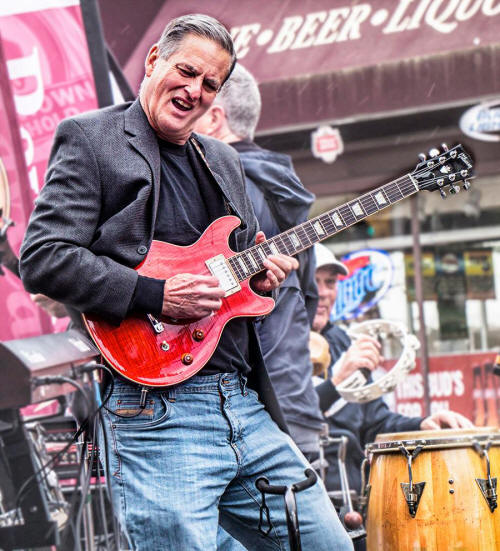 Ha ha, the blues - hurts so good!
Here's a little bit of us live, if you're interested. Ilya Stemkowsky on drums this time.
We also did more gigs with legendary drummer Bernard "Pretty" Purdie (Aretha Franklin, James Brown, Steely Dan, Hall & Oates, Alan Jackson, etc. etc. etc.).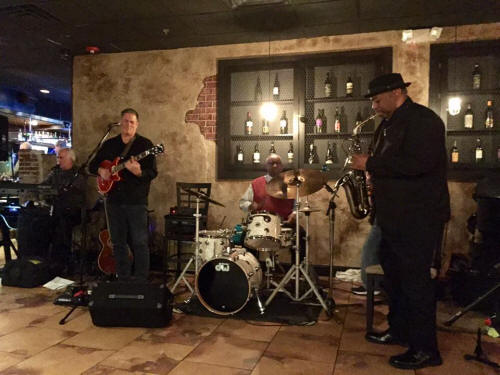 Rogues on the Run with Bernard "Pretty" Purdie on drums.
Here's some exciting news: Bernard asked me to produce his next album! In fact, we are hip deep in it. I wrote 13 songs that cover a wide variety of the different kinds of music Bernard has recorded over the years. Here's the rhythm section.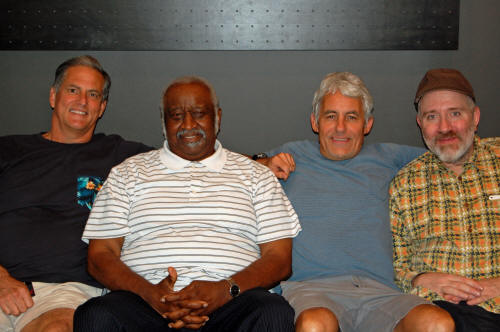 Jack, Bernard, John Korba & Paul Nowinski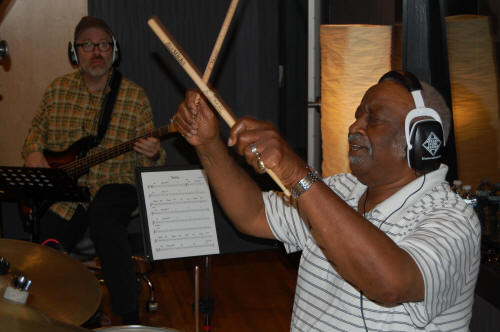 Paul and Purdie - "one and-a two and-a you know what to do...!"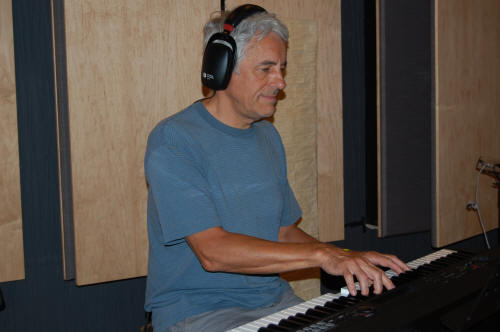 Musician and singer extraordinaire, John Korba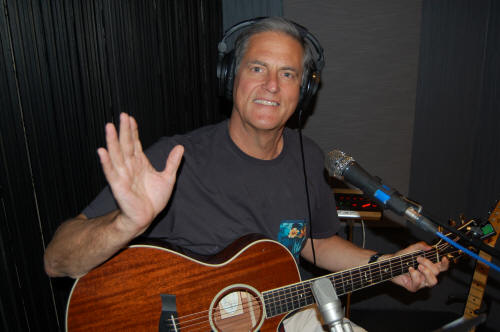 Pretty happy to be involved!
I don't want to say too much at this point, but things are going great. The album is scheduled to be released in 2018, so stand by!
And don't forget to pick up Bernard's biography. It's a wonderful read!

You may know that one of my favorite guitarists is the great Robben Ford. Robben is one of the premier electric guitarists today, particularly known for his blues playing, as well as his ability to be comfortable in a variety of musical contexts. A five-time Grammy nominee, he has played with artists as diverse as Joni Mitchell, Jimmy Witherspoon, Miles Davis, George Harrison, Phil Lesh, Bonnie Raitt, Michael McDonald, Bob Dylan, John Mayall, Greg Allman, John Scofield, Susan Tedeschi, Keb Mo, Larry Carlton, Mavis Staples, Brad Paisley, and many others.
Well I got to play with him again in 2017.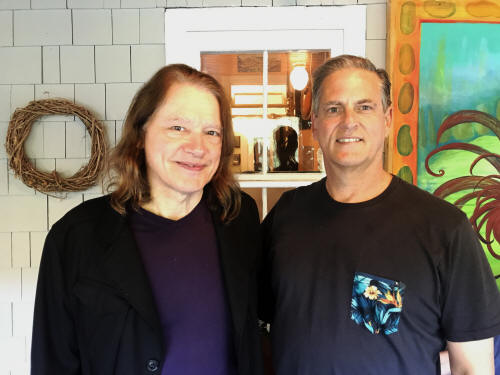 My favorite guitarist – Robben Ford.
And guess what! Robben offered to play on the Purdie album! Wait until you hear his awesome contribution!
And one last music-related remembrance. One of my favorite types of music is Bossa Nova. And my favorite song is "La Garota de Ipanema" which you may recognize as "The Girl From Ipanema." Well, after the Argentina TaiKai I went from Buenas Aires to Rio De Janiero, Brazil to visit the land of Bossa Nova. Here she is – the Girl From Ipanema!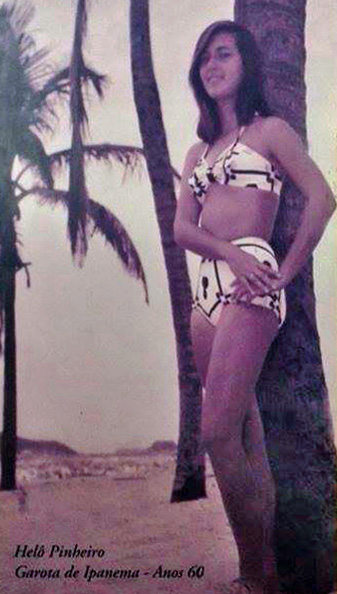 The Girl From Ipanema
And here is a rendering of the original score.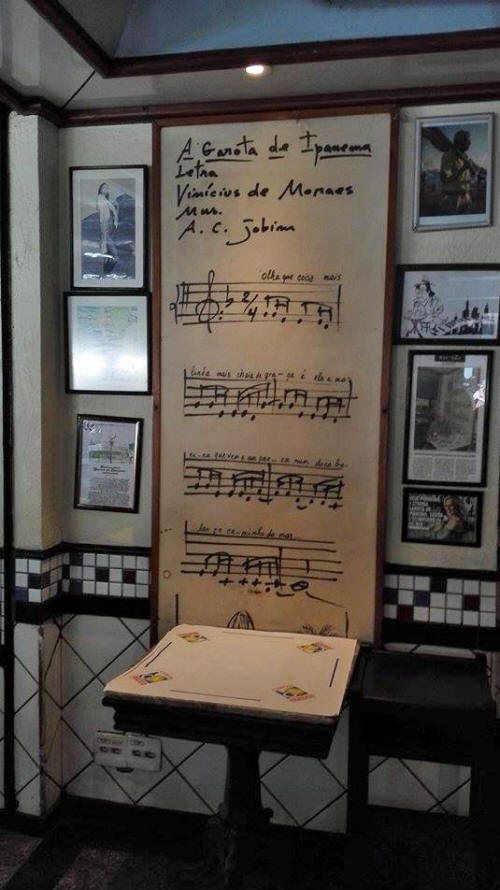 It was very inspiring to be in the place where Bossa Nova was born, for sure. In fact, on the new Purdie album there are two songs that I wrote that were inspired by the music of Brazil, so listen for them. Next year maybe I will actually meet the Girl From Ipanema in person. Put that on the Bucket List! I wonder if she'll look straight ahead or at me. Sigh...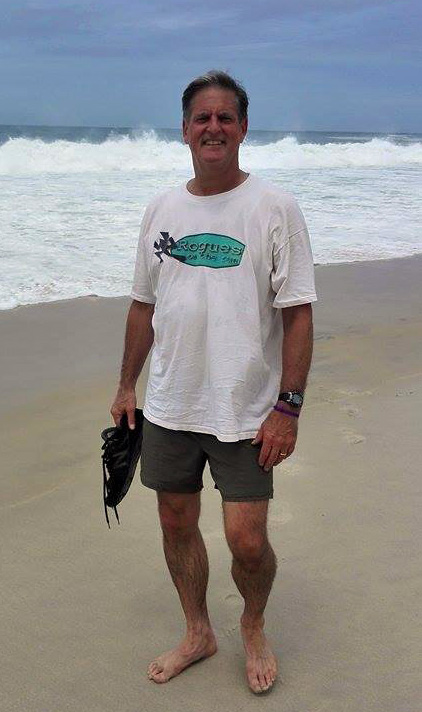 A stroll on Ipanema Beach looking for you know who!

In 2017 I did get to check another item off of my bucket list. My Jersey Shore friends know that I am a fanatic, amateur bodysurfer. Well, in 2017 I got to meet and go bodysurfing with the former world champion, Mark Cunningham! Mark is a world-renowned waterman who lives in Hawaii. He was also the head lifeguard at Banzai Pipeline on the North Shore of Oahu for twenty years.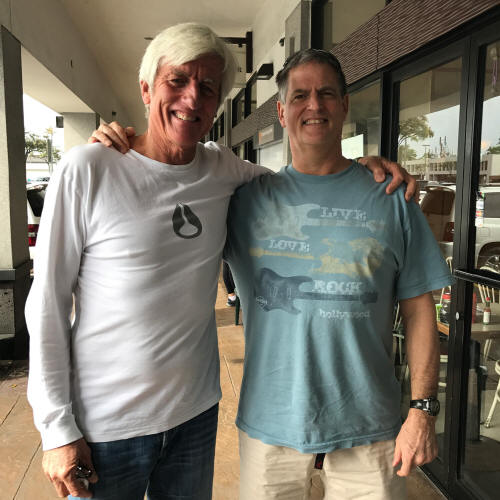 With waterman Mark Cunningham
We went to Makapu'u, Old Man's and I was even able to get us on to the Marine Base at Kaneohe to surf Pyramid Rock beach and do a little beachcombing. Mark is also an artist who uses materials that he finds washed up on the beach or buried in the reefs to create wonderfully unusual art pieces.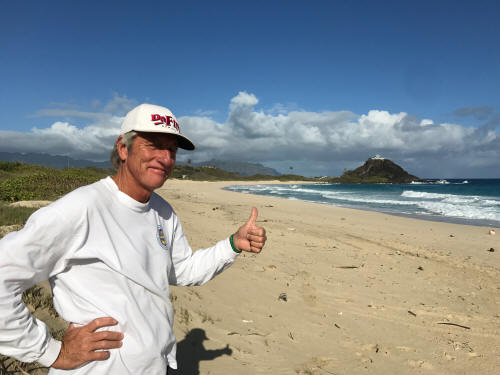 Mark at Pyramid Rock Beach on Marine Corps Air Station Kaneohe.
And what a nice man! A real gentlemen infused with the aloha spirit. And don't I look professional with the DaFins he gave me?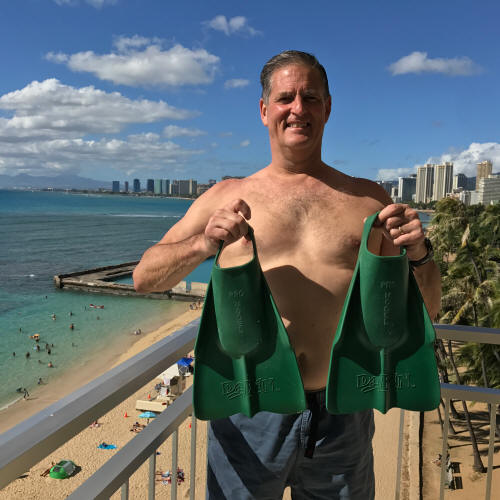 With my new DaFins – pro model! Thanks, Mark!!
And his lady, Katye is also a sweetheart. We got to share a meal with them both. So fun! I'll leave you with a photo of Mark in action.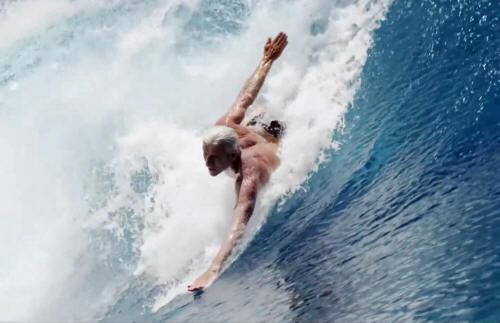 Mark Cunningham bodysurfing.
Isn't that about the coolest thing you've ever seen? I hope to get lucky again and share a few more bodysurfing adventures with Mark in 2018.

Whew!! Another jam-packed year. So what else is in store for 2018?
When I was in Japan Sensei was painting for us and he asked me what I wanted. As usual, I said, "nande mo ii (anything is fine)." He painted me this: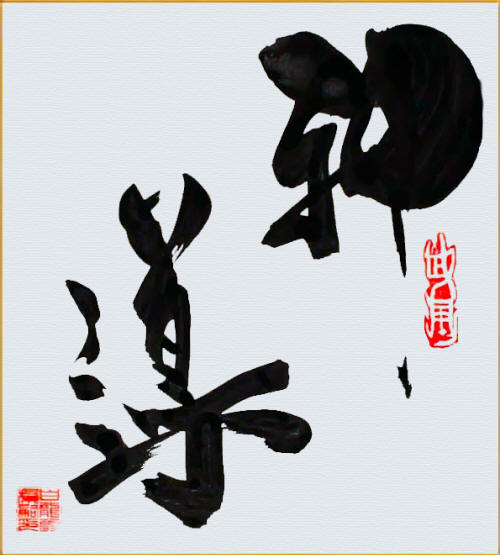 Calligraphy "Shin Dou" by Masaaki Hatsumi from author's personal collection.
It says Shin Dou. "Shin" means "God." "Dou" means "guide." [Just an aside: we think it says Shin Dou – the first character looks like it could also be "wa," which means "harmony." Such is the nature of Hatsumi Sensei's calligraphy. Nothing is ever fixed.]
Sensei has an uncanny ability to anticipate what you are thinking about – and inspire you to think at an even higher level. So if we assume that it says shin dou, what is that telling us? First, there is really no such thing as the word shin dou in Japanese. As he often does, Sensei has strung two characters together that typically don't go together. So, it is up to us to catch the feeling of this unique concept: God guides.
My best friend, the late Mark Hodel, was a wise and funny guy. He had many great sayings which I still ascribe to, such as, "never refuse a breath mint," and others. One of his favorites was: "I love my 55 year old brain, too bad I couldn't have had it in my 25 year old body."
I kind of know what he meant. My brain does work better and faster now than it ever has. Without trying to get all mystical and magical, I have to say that I often seem to be able anticipate what will happen before it happens. This is very useful in martial arts, of course. You develop a sense of what the opponent will do next and move preemtively to thwart his intentions. That is probably just the result of long experience, not the ability to really predict the future.
But, I think, years of consistent training may also instill in the practitioner a trust in "ban pen fu gyo," the old ninja saying that might be interpreted as "10,000 changes, no surprises for the ninja." Again, maybe we are not really seeing the future, but are just not surprised when what happens, happens. We trust that we can adapt and survive just about anything, because of our training. And a trust in God.
In "Ninjutsu Hiketsu Bun," an essay on the essence of ninjutsu by Takamatsu Sensei, it is written:
If an expert in the fighting arts sincerely pursues the essence of Ninjutsu, devoid of the influence of the ego's desires, the student will progressively come to realize the ultimate secret for becoming invincible – the attainment of the "mind and eyes of God." The combatant who would win must be in harmony with the scheme of totality, and must be guided by an intuitive knowledge of the playing out of fate. In tune with the providence of heaven and the impartial justice of nature, and following a clear and pure heart full of trust in the inevitable, the Ninja captures the insight that will guide him successfully into battle when he must conquer, and conceal himself protectively from hostility when he must acquiesce. The vast universe, beautiful in its coldly impersonal totality, contains all that we call good or bad, all the answers for all the paradoxes we see around us. By opening his eyes and his mind, the Ninja can responsively follow the subtle seasons and reasons of heaven, changing just as change is necessary, adapting always, so that in the end there is no such thing as a surprise for the Ninja.
Having the "mind and eyes of God," doesn't mean that we are God. God guides. OK, let him (or her!). Maybe Hatsumi Sensei is just trying to encourage me to not overthink or worry, but let God guide and protect. Yet, as Takamatsu Sensei reminds us, in order for that approach to work, we have to train!

So on to 2018!
The longer I train, the more I realize that, that for me, it is not about learning the next technique or memorizing the densho. For those of us who have been training awhile, we have kind of "seen it all." But sometimes we can see something and not truly understand what we have seen. That is why I think it is important for me – all of us – to go to Japan at least yearly to observe Hatsumi Sensei's movement in person. And, that's also why I like to use the word "practice" as it applies to our training. Practice, to me, gives the feeling of working to build a deeper and more thorough understanding of what we already know – or are supposed to. Think about that for a second. When we first started budo training, everything was new, and for years, we could look forward to learning "the next cool thing." But what happens when we have "seen it all?" Well, as we have experienced, perhaps, almost everyone quits at some point. They have gotten what they wanted. Perhaps, it was an adequate level of skill and/or self-confidence. Or a rank, or a medal, or a title. And for them, that was enough. They're done. Like finishing a course at university. You get your grade and you're finished. Most of the things you learned you never use again. Eventually you graduate. You start your "real" life."
But for the budoka, I believe, the "real" life begins when you have already been taught "everything," and start to really practice. Everyday, the same basic things, Over and over. Until you understand them with that "86 year old mind" in the "whatever your age-old body."
And think of what we begin to understand when we finally stop thinking about the newest, shiny technique.
Juppou Sesho (十方折衝) - being able to feel the "artificial gravity" created when encountering force from any perspective, then stacking our kamae behind the opponent's "balance point" to control their space without power or force.

Kaname (要) - finding the "pivot point" and learning to use the natural power of three (or more) dimensions.

Ishi Tobashi (石飛ばし) - using the "skipping stone" concept and not freezing or stopping when one approach isn't working, but "skipping" seamlessly to the next natural space until we succeed.
Of course, these are my personal characterizations of these principles recommended to us by Hatsumi Sensei. But, it's amazing what insights we can get from what we thought we already knew just by devoting ourselves to the simple discipline of practice. As I often say: the training is infinite, so, no matter how long we have been practicing, we are all the same distance from the end.
So, in 2018 let's simply deepen our practice – and let God guide us..
Gambatte!

Jack