Actually it is the year of the Fire Rooster. Asian people say this year people will be more polite and less stubborn, but will have a tendency to complicate things. 2017 will be dominated by an orientation towards progress, honor and maximum integrity, people learning to temper their ardor.
After our recent political upheavals, I certainly hope so! But, I am thinking that people do overcomplicate things, and I certainly hope that we all will keep the beauty of simplicity in mind as we go about our lives and deal with others in 2017.
I'm ready for a New Year. How about you?
So what happened this past year? Plenty! Much of it closer to home. But I did attend the BuyuKai in July at Castle Kattlenberg in Germany last summer. I have participated in BuyuKai a number of times. This is a GREAT event and I encourage all my martial arts friends to attend. It is organized by Steffen & Sabine Frφhlich. I think there were buyῡ from over 14 countries there last year – with some top-notch coaching on everything from the basics to pretty advanced stuff. Really, you MUST go.

We enjoyed another Buyῡ Camp East in New Jersey.
Buyu Camps are a great way to connect with old friends and get the "continuing education" and inspiration that will help you "keep going" when you get back to your own, local training group. Our usual spot will not be available in 2017, so we are looking for a new place. Change is good! So, please keep an eye on our seminar page for news about Buyu Camp 2017.
We also had training seminars in NJ, of course, and a fun one in Florida.
I was able to visit Japan twice in 2016 to train with my teacher, Soke Masaaki Hatsumi. A special seminar in April 2016 commemorated the anniversary of Takamatsu sensei's passing and marked the 42nd year of Hatsumi Sensei's training cycle. Hatsumi Sensei said it took him 42 years to understand what Takamatsu Sensei was trying to teach him and that 2016 marked the beginning of a new cycle. 42 years to understand our budo, wow – where does that leave us?!
As part of the celebration, I and several others grasped the sword that Takamatsu Sensei reportedly used to give Hatsumi Sensei his sakki test.
As may be considered typical of Hatsumi Sensei (as well as Japanese culture, in general), there was not too much detailed discussion of this "ceremony." A transmission of some kind? Perhaps, but I'll take more of my teacher's advice and not think about it too much. Just "keep going."
It was back to Japan in late November/early December for Sensei's annual birthday training. As is the tradition, I led the group in "Happy Birthday," and a toast to his health and longevity. Sheila and Sensei danced together – another tradition.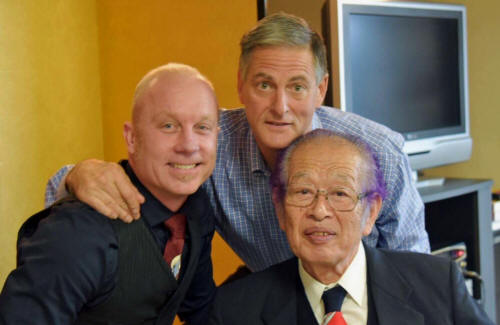 Doug and I wishing Sensei a Happy 84th Birthday!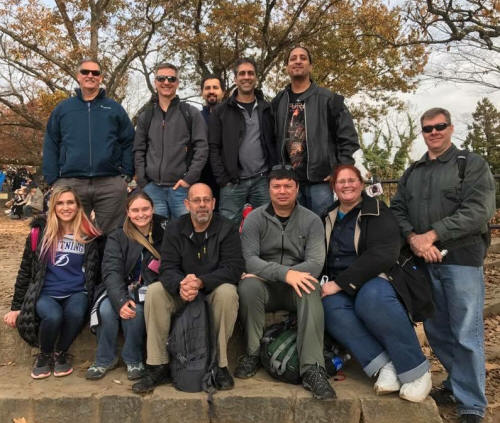 2016 buyῡ trip to Mt. Takao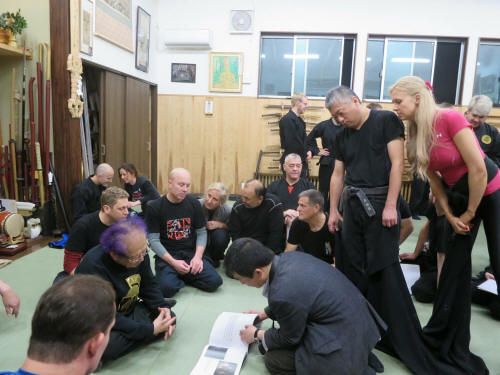 Checking out some of Sensei's work at the Hombu Dojo in Atago.
In 2017 there may be an exhibition of Sensei's paintings. Keep an eye on the Buyu Facebook page for more info.
And there are many more pictures on our Buyῡ Facebook page here.
Check here for upcoming seminars in 2017.

My book "The Ethical Warrior," is still doing very well. It is on the Marine Corps Commandant's reading list and I was invited to the Marine Corps Expeditionary Warfare School in Quantico this past summer to discuss warrior ethics with several hundred young officers from the Marine Corps and our allied countries. It was quite an honor. Click the cover if you want to read the book.
You may know that Bruce Gourlie and I wrote a follow-up book for protector professionals called "The Ethical Protector." Check it out!
We released an old video I did back in the 90's on Bujinkan basics. I had a laugh looking back at some of the footage – boy I'm getting old!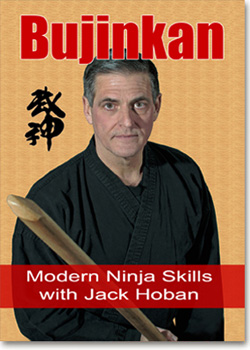 But there is some pretty good stuff on there, especially for people working on the basics. And you'll see some of your favorite buyῡ on there lending a hand. You can get it here, or on Amazon.com.

This past year I was again privileged to work with the Marine Corps Martial Arts Program (MCMAP) in Quantico, Virginia. This important program is led ably by my good friend Joe Shusko (LtCol USMC ret.). It covers armed and unarmed martial arts techniques, combat conditioning, mental training and character development.
As an American, I think you would be proud of these young men and women. They are physically and mentally tough, yet respectful and ethical. Many are veterans of both Iraq and Afghanistan.
I know that many readers of this page have been in the military or are strong supporters of our armed forces, but there is no doubt that there is a cultural divide today between the military and the rest of society. For nearly two generations, no American has been obligated to join up, and few do. Less than 0.5 percent of the population serves in the armed forces, compared with more than 12 percent during World War II. Even fewer of the privileged and powerful shoulder arms. In 1975, 70 percent of members of Congress had some military service; today, just 20 percent do, and only a handful of their children are in uniform. 3.1 percent of all living Americans have served in the Army, 1.7 percent in the Navy, 1.4 percent in the Air Force and 0.8 percent in the Marines [I got this info from a good article here].
This, I think, is a potentially dangerous thing and this lack of understanding between the two groups could be the source of further divisions in our society. So what can we do? Learn more, visit military graduations, talk with vets, volunteer with veteran organizations. Do you think of yourself as a warrior? There are many warriors in the the military. Real ones. Consider joining them if you are still of age.
The warriors I am privileged to train with are quite physical, but are also focused on how to maintain their ethics and a "protector mindset" under the adversity of war.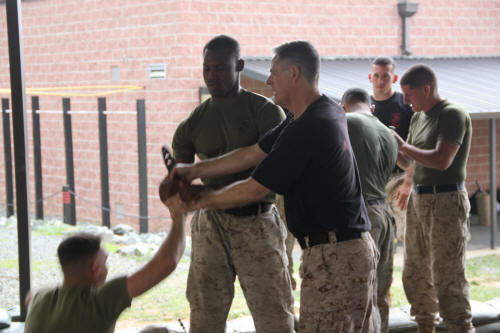 "Training" – USMC photo courtesy of Homer Brett 2016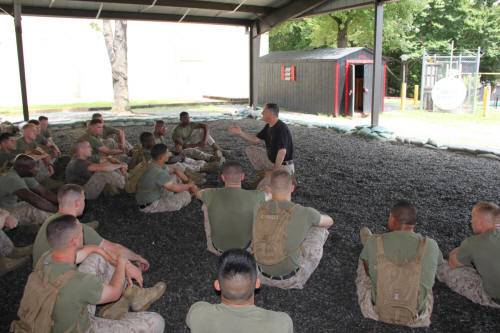 "Talking Ethical Warriorship" – USMC photo courtesy of Homer Brett 2016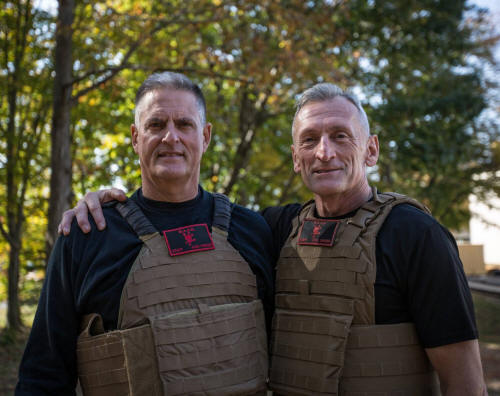 My MCMAP inspiration and boss, LtCol Joe Shusko (Ret) – roguish!!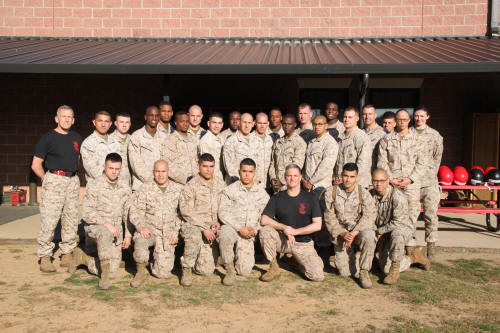 "Marine Ethical Warriors" – USMC photo courtesy of Homer Brett 2016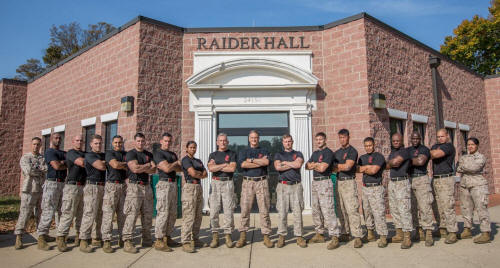 The Martial Arts Center of Excellence (MACE) Staff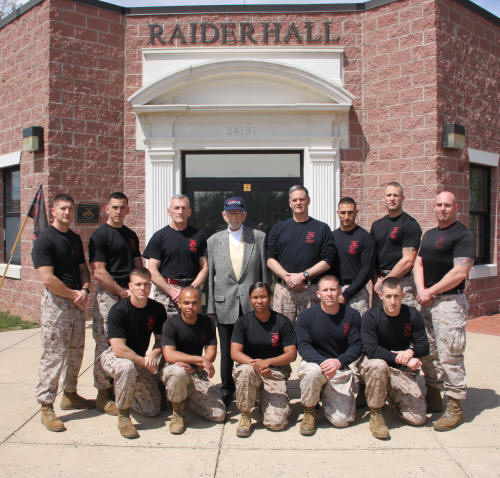 MACE Staff with Guadalcanal hero Jim "Horse Collar" Smith
Check out this video on our Marine Ethical Warriors.
Want to help our wounded or aging warriors? Check out this link.


For several years now I have been talking about Resolution Group International. As you may know, RGI is made up of military and law enforcement professionals who teach conflict de-escalation under stress. The RGI curriculum extrapolates on the work I have done with Robert L. Humphrey and the Marines in the areas of ethics, conflict communication, physical protection skills and leadership. We had 3 more RGI Conflict Resolution Courses in 2016.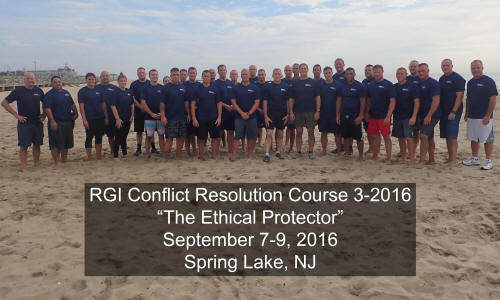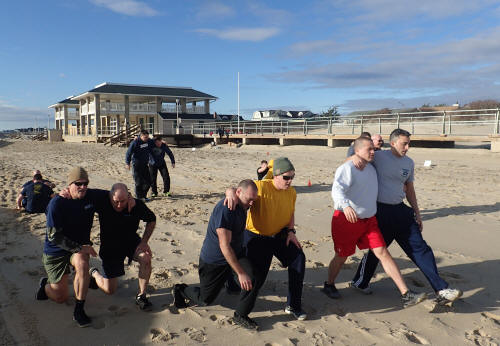 The infamous RGI beach workout! SgtMaj Brian Pensak and myself – moto!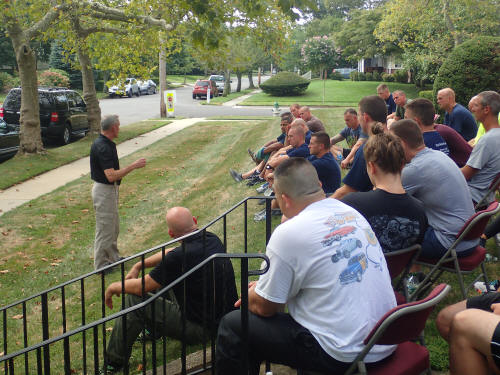 Joe "Marine" Shusko giving one of his patented "tie ins."
RGI also conducted several Executive Level Training Courses in New Jersey for Chiefs and other Law Enforcement leaders.

Retired NYPD detective and RGI Associate Artie Mark – mentoring Police leaders.
I was also invited to be the keynote speaker for the Canadian Association of Police Governance Conference in Ottawa last August. What an honor!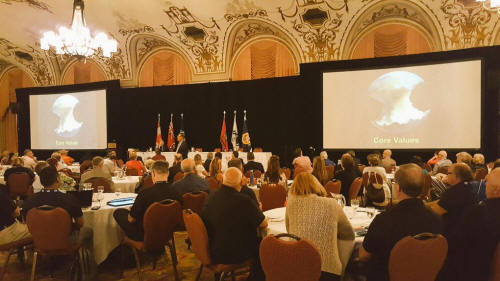 CAPG 2016 Conference on Police Ethics
I was a keynote speaker at the Big 10 conference on Ethical Leadership at Rutgers University. And a keynote at the Bergen County NJ conference on ethical policing. Thanks to my friend, leadership speaker, Vincent Bove, for getting me invited.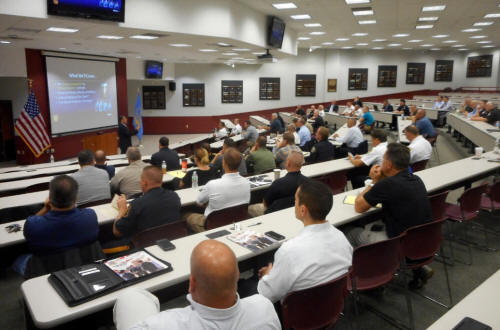 We are just getting warmed up and RGI is poised to do even more cool things in 2017.
If you are interested in learning how to apply the Ethical Protector training as a law enforcement or military professional – or just want to explore the concept with the top-notch RGI instructors in a hands-on setting as a civilian warrior – check out RGI Events. And there is more news and lots more pictures on our RGI Facebook page here.

Played a good bit of music in 2016. Our band "Rogues on the Run" had another fun year. We did more gigs with legendary drummer Bernard "Pretty" Purdie (Aretha Franklin, James Brown, Steely Dan, Hall & Oates, Alan Jackson, etc. etc. etc.).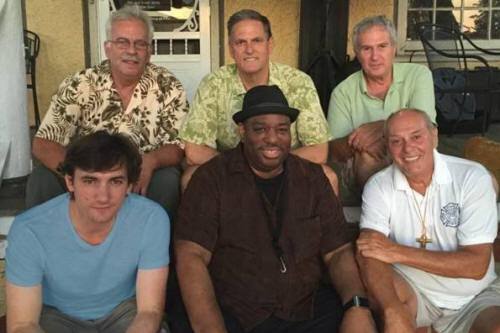 Rogues on the Run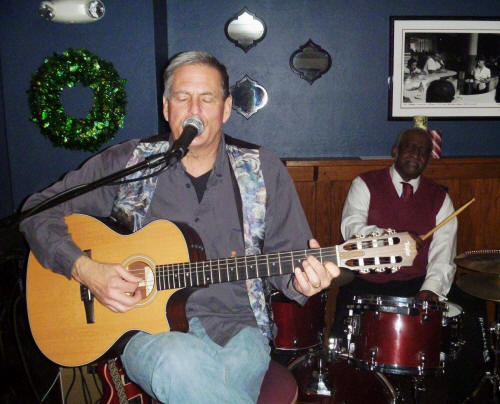 Purdie & Jack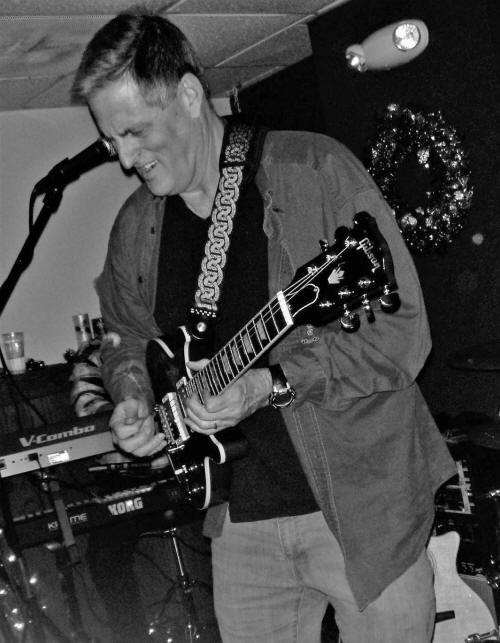 Here's my new 125 anniversary double-cutaway Les Paul. Cool, huh?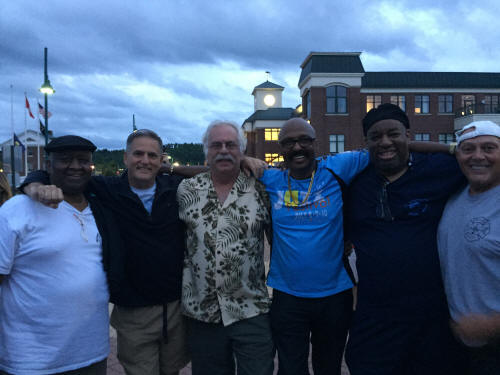 Bernard, Jack, Mario , Gene, Vel & Rob – Rogues on the Run in Vermont
Bernard and I re-united with our old Jersey Blue band mate, Gene McCormick, at the Newport Jazz festival in Vermont this past summer.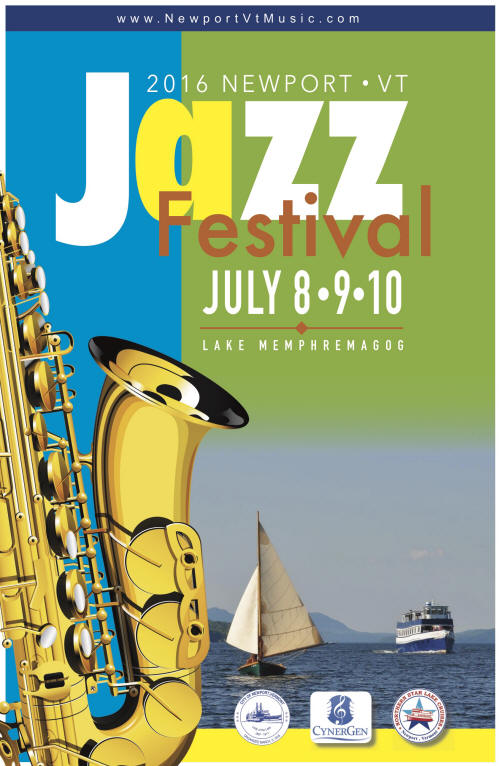 We headlined with Stanley Jordan!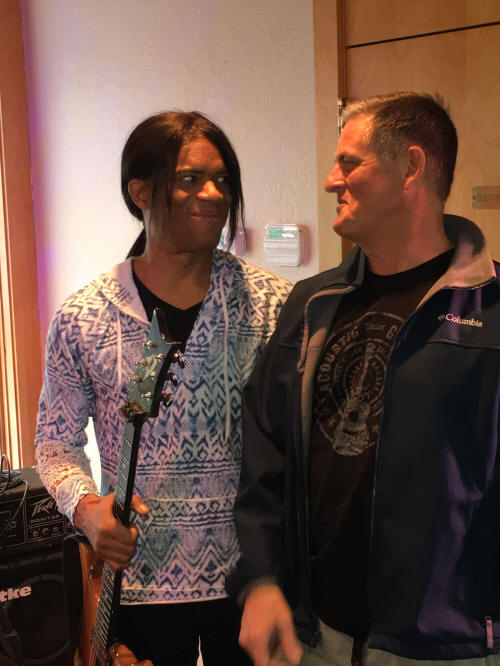 Jack & Stanley Jordan
The Rogues released a live album in 2016 featuring Bernard "Pretty Purdie. Here's the cover, and you can click the links to hear some of the tunes.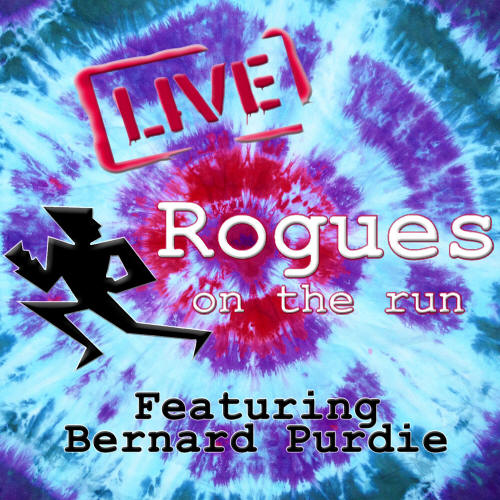 Buy From Amazon.com

or
CD Baby
or
Download from iTunes

And don't forget to pick up Bernard's biography. It's selling great!

I also got to check off a major item on my musical bucket list in 2016. You may know that my favorite guitarist is the great Robben Ford. Robben is one of the premier electric guitarists today, particularly known for his blues playing, as well as his ability to be comfortable in a variety of musical contexts. A five-time Grammy nominee, he has played with artists as diverse as Joni Mitchell, Jimmy Witherspoon, Miles Davis, George Harrison, Phil Lesh, Bonnie Raitt, Michael McDonald, Bob Dylan, John Mayall, Greg Allman, John Scofield, Susan Tedeschi, Keb Mo, Larry Carlton, Mavis Staples, Brad Paisley, and many others.
Well I got to play with him in 2016. Wow!!! I was so happy. And, besides being a great guitarist, Robben is an interesting and unique person
. When we weren't playing we bonded over a "couple" of drinks and found some common ground. But mostly it was about the blues!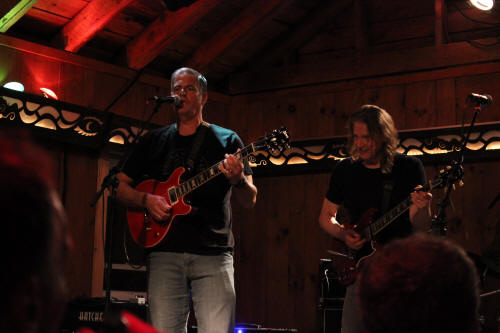 OK, I'll start 'er off – blues in A.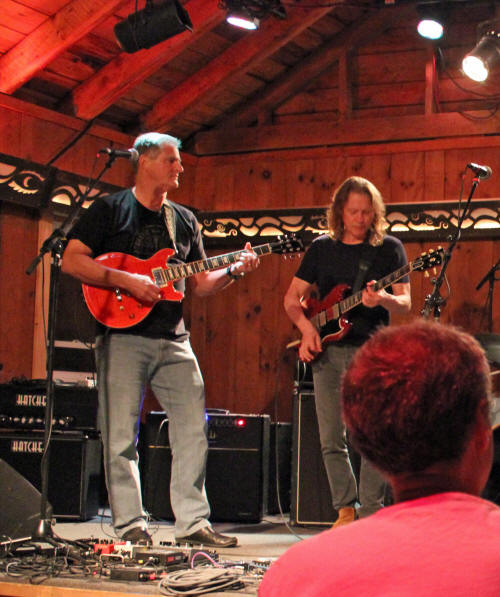 Over to you, Robben.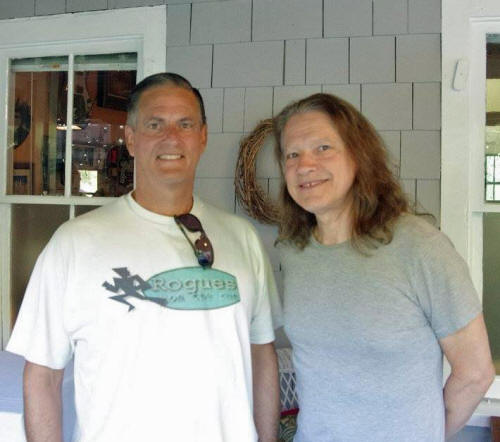 My favorite guitarist – Robben Ford.
Two things happened during my time with Robben that I think are important to share. First, I heard someone ask him how he gets ready or "warms up" for a performance. Robben's answer, I think, was really cool. He said: "I am always ready to play; my concern is just to make sure I am never not ready to play." Wow! A lesson for martial artists right there.
The second was something that happened during a jam with another great guitar player who was also with us. They were playing a hot blues number and Robben took the first solo. It was a typically great Robben solo. This other player took the second solo, really pushed hard and also played a great solo. Robben was listening and had a quiet smile of approval on his face when the solo finished. Then Robben calmly, politely and without fanfare simply blew this guy away. Otherworldly! As he finished playing, Robben then nodded back to the other guitarist to take another solo. That guitarist just shook his head and raised his hands in surrender. It was just so cool and classy on both their parts. But it absolutely made me think of a great martial artist who wins without killing his enemy. He just shows so much skill that the opponent surrenders gracefully and everyone lives.
Speaking of the connection between martial arts and the other arts, you may know that Hatsumi Sensei is planning an exhibition of his artwork this year. When asked why he paints, Sensei answered "I paint as a way to teach people about martial arts." How does painting teach about martial arts? Well, you can hear Sensei's answer in this cool video here.
It seems to me that all the real arts have much in common and true artists can understand each other and cross teach us. I feel that the essence of all true art is the same – to inspire us to embrace and enjoy the depths of human creativity, beauty and feeling. In other words, to honor the fact of life. What do you think?

A little bit of a different kind of year (as usual), but a full and rewarding one. So what's in store for 2016? When I was in Japan Sensei was going to paint me a calligraphy and he asked what I wanted. At first, I said, "nande mo ii (anything is fine)." He painted me this:

Calligraphy "Mei Yun" by Masaaki Hatsumi from author's personal collection.
Can you read it? It says mei yun or "great actor." And then he said: "It's for your son." Well, you may know that my son is a budding actor in L.A. (one of his movies is here). But I thought this was a cool painting for me, too.
Thinking about the political climate of the United States over the last year, it struck me how wise it would have been to be a "great actor" and hide one's true intent, living in the kukan between the clashing cultures. It was a very good time to be a ninja – master of kyojitsu. Still is.
Regardless of one's "politics," it is always a good time to remind ourselves of Robert L. Humphrey's Dual Life Value (DLV) Theory of Human Nature. Perhaps the most important axiom of the DLV is this: "No relative value – regardless of how 'great' or 'moral' it may seem – can supersede the Life Value."
Didn't we see myriad of examples in 2016 of how some people were demonized and dehumanized because their relative values did not coincide with the relative values of others? And folks, they are all relative values except the Life Value. A relative value only becomes moral when it honors and respects the lives of self and others – all others. If your religious, cultural, political or economic values or opinions make you believe that you can dismiss those who don't agree with you as less than equal human beings, you are immoral. If you act on that immorality, you are unethical. No matter how "right" you think you are or how "wrong" you think somebody else is.
Ask yourself: Are there smarter people than you? Better looking? Stronger? Can you accept that? Are some people more educated? Richer? Members of a relatively more highly regarded social status or political class or religious affiliation? Are there people who have done more good works in their lives than you have? Are some of a different race, creed or color? Of course! Can you live with all of that? Perhaps so. But what if someone were to say that one or more of those relative differences made the lives of those other people worth more than your life? What would you say?
Undoubtedly you would say "No!" Almost all human values and traits can be relative or varying in degrees, but life itself is not. That feeling is shared by all people everywhere; in other words it is universal. That is why we consider Life to be an absolute value and an unalienable right. I know it's the year of the rooster, but don't overthink this. The value of our beliefs and opinion are relative; the value of our lives are absolute. We all have the Life Value or we wouldn't be alive. And all of our other values are qualified by the Life Value. In fact, how could we even have relative values if we weren't alive first?
Now what if I were to ask: If there are people who are richer, smarter, better educated and more politically connected than you, should they be able to rule you?
You might say, that that those people, although relatively superior in many ways, have no right to rule you. You might say something like: "And they won't! It's my life and I'll make my own mistakes, thank you! And I certainly won't vote for a person who treats me condescendingly!"
Which brings to mind the difference between a constitutional republic like the United States and a body like the UN or European Union. In a constitutional republic, we vote for our leaders. Not in the UN or the European Union – there the "richer, smarter, better educated and more politically connected" appoint each other to rule because we normal people are considered unqualified to make important decisions that effect the global community.
Well, we'll see how that works out.
By the way, what is the difference between a constitutional republic and a democracy? A republic is a representative government ruled by law. A democracy is direct government ruled by the majority. A republic recognizes the inalienable rights of individuals while democracies are concerned with group wants or needs (the public good).
Which would you prefer?

Well, we can all think about that. But, in the meantime, let's get down to our training theme for next year. I asked Sensei about it, and he said several things, including "controlling the space" and "mutou dori." Which, in a way, I think, are the same thing.

Calligraphy "Mutou Dori" by Masaaki Hatsumi from author's personal collection.
It is very hard to control others. We must learn, then, to control the "spaces" around our opponents.
Perhaps you have heard me say this: How do you most effectively hold a fish? Grab it with with your hands and it is likely to wiggle right our of your grasp.

"Hurry up, grab it! Oops!"
Control it with a net, and it can wiggle around all it likes, but it probably can't escape. In Japan this year, Sensei said many times: "don't grab them, control them!"

Control the space!
And, how would you control a tiger? Grab it by the tail?

Winner, "May Not Be Around In 2017 Award."
Again, don't grab him, the easiest way is to control his space – with a cage.

Controlling the space.
I'm not sure we should be trying to control tigers, at all, but I have never had my herd of goats or child eaten by one, so I'll just leave that for others to decide.
Mutou dori often refers to the skill of disarming an opponent with a sword. This is all about controlling the space, too. I was able to grab a sword last April, but thankfully it wasn't being swung at me in an attack. Maybe it is possible to grab an attacking sword and not cut your hand off, but I think I'll wait until it actually happens and I have no alternative before I try it.
I think that the concept of controlling the space around a weapon – any weapon – in order to survive is mutou dori. Knives, sticks, guns...same concept applies, I think. So let's practice a lot of armed and unarmed scenarios against an attacker with a weapon. Swords, of course, but anything that could be used as a weapon.
And how about other, perhaps less obvious, "weapons." A weapon is tool that gives one an advantage in conflict. How do people use other advantages against us in real life? Financial advantages, political advantages, emotional advantages? Can we "wrap those advantages in space" and live safely in the kukan?
What do you think? How would we do that? How could we train ourselves to do that? What do you think?
Events, also, may seem very much beyond our control. Hmmm...
By the way, for you music lovers, it's not only about the musical notes – it's about the space between the notes. That's what makes a melody.
So Mutou dori and "controlling the space" it is for 2017. Have a wonderful New Year and I hope to see you in the training. Keep going!
Jack