New Year's Message
January 1, 2013
Dear Friends:
Happy New Year! I hope your 2012 was a great one and that your New Year will be all you want it to be.
Do you have a feeling that 2013 will be a year of change, perhaps, profound change? Me too. Ban Pen Fu Gyo.
I am a little surprised by how many people have contacted me over the last couple of weeks asking about my yearly message. I wrote quite a bit in 2012; I really thought that I may have said enough. If you missed any of the blogs, stories or interviews, here are links to them:
In addition to the above, I even wrote a new book. For years people have asked if I was going to have "Ninpo: Living and Thinking as a Warrior" reprinted. The answer is, "probably not." That was then; this is now. My thinking has evolved quite a bit in the years since the "Ninja Boom." I am more interested in what comes next than what I thought then. The new book is called "The Ethical Warrior," and you can get more info here or on Amazon.com; it's even available for Kindle.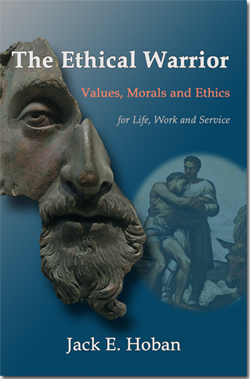 I've stalled enough, so here is my 2013 blog. Ready?
2012 was an extremely eventful year. Besides all the writing, it was my busiest year ever for training and traveling. Check this out: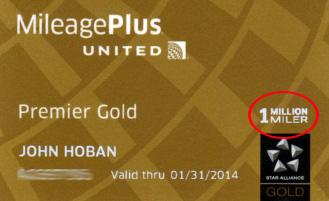 To paraphrase Dan Fogelberg, "The training was heavenly; the travelling was hell."
Two very significant yearly training events are the Buyῡ (Warrior Friends) Camps – east and west. Our group enjoyed a fifteenth Buyῡ Camp West in San Francisco under the Golden Gate Bridge on the Pacific Ocean. As has become custom, the event is in honor of Mark Hodel.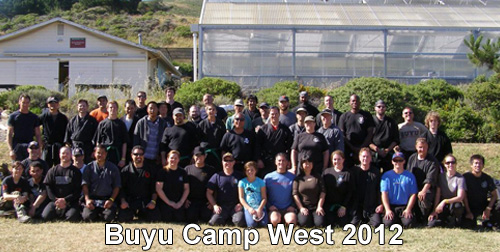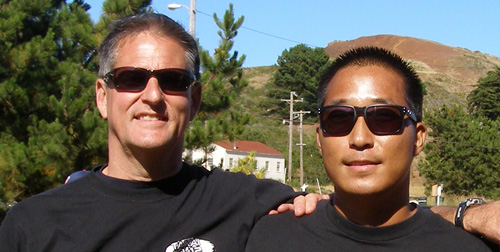 With Andrew Hodel at Buyῡ Camp West
We enjoyed a ninth Buyῡ Camp East in New Jersey.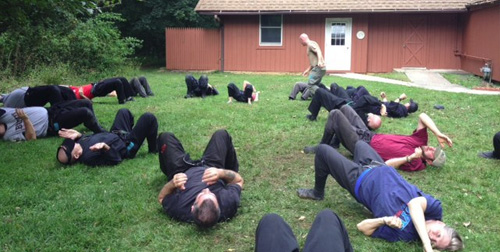 A little groundwork at Buyῡ Camp East 2012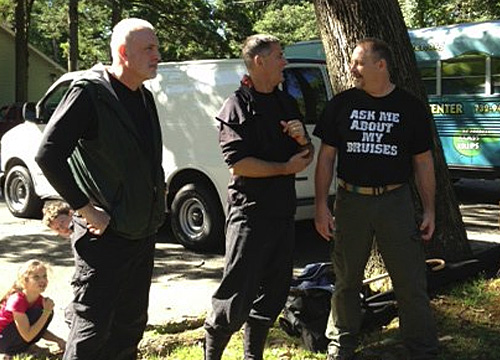 With Rory Miller and some Guests - Buyῡ Camp East
Buyῡ Camps are a great way to connect with old friends, get valuable "continuing education," and stay inspired to "keep going" when you get back to your own training group. Click the respective Camp links for info on these yearly training opportunities – and check out the photos tab on our Bujinkan Buyῡ Facebook page to see pictures and comments.
We had training seminars in NJ and California. I visited Paul Fisher, Ed Figueroa and the guys and gals in Florida twice. I was in Chicago with Jim Morganelli and his group.
Pedro Fleitas visited us again from Gran Canaria, and my buyῡ Giuseppe "Pucchi" Costa visited from Sicily and brought a bunch of fun (and slightly crazy) Italian friends with him.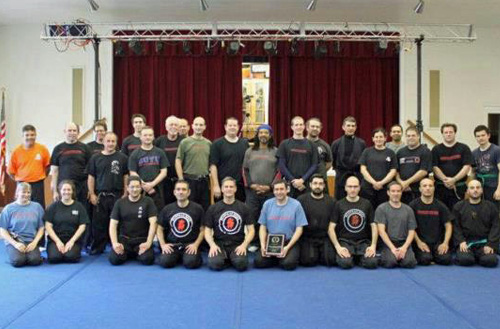 Pucchi & Jack in NJ

And then there were the International seminars. I was in Switzerland with Phil Bradshaw and Murray Taylor at theBuyῡ Dojo Zόrich. I also visited Colombia with David Palau and his group.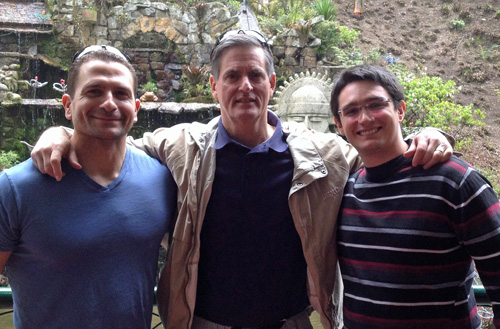 With David and Jose in Colombia.
We did a TaiKai in Argentina. Thank you Marcelo and Don Juan.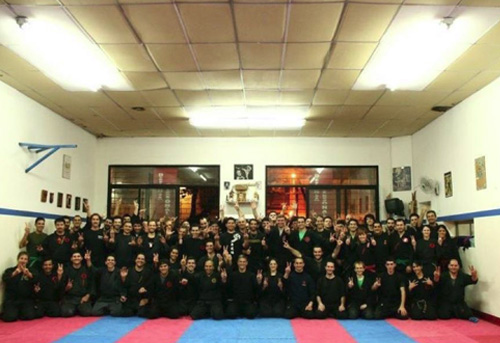 Argentina TaiKai
I was at BuyῡKai with my friends Steffen and Sabine.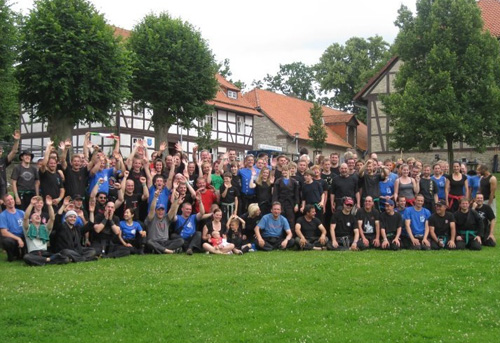 BuyῡKai in Germany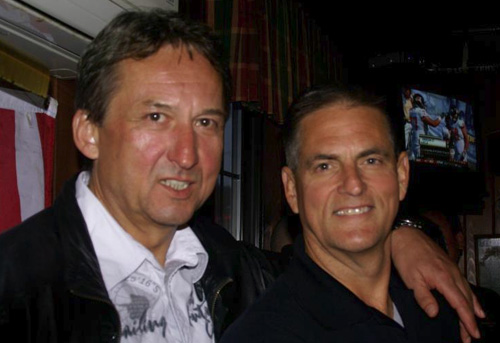 Jack & Steffen
I visited the Canary Islands for Pedro Fleitas' 25th Anniversary in the Bujinkan. Great time!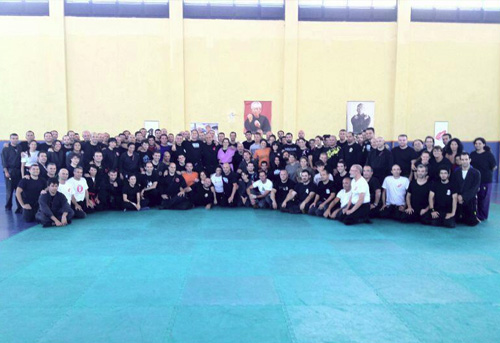 TaiKai Gran Canaria

Jack y Pedro
From Gran Canaria, we stopped off in Madrid for some training with Miguel, who was a critical first-responder during the Madrid terrorist bombings.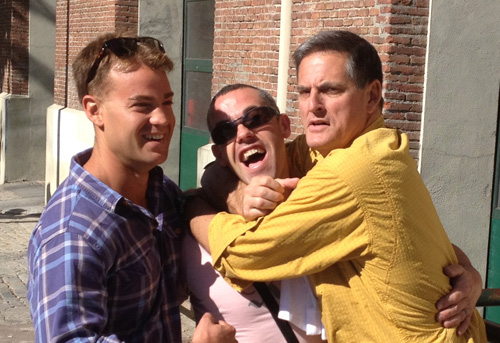 Alex, Miguel & Jack "training" outside Madrid fire station
From Madrid it was on to Sicily for another TaiKai with Pucci and the Messina Buyῡ.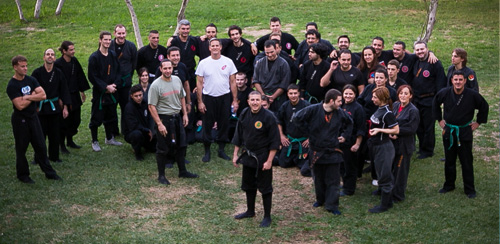 Sicily TaiKai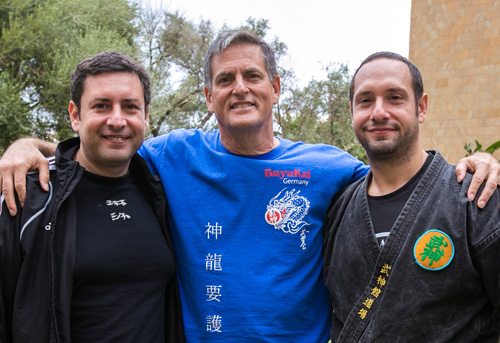 Pucci, Jack, Aurelio
The buyῡ spirit followed me wherever I went. I am very grateful for all of the friendship and great training experiences. Thank you everyone! I feel like I missed a couple of places, if so, I apologize, but I was a realRogue on the Run last year.
My plan is to stay home a little more in 2013 and play some music with my band.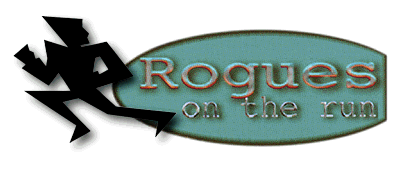 But I will do some traveling, so consult the WIN seminar page periodically for details on training events around the world.

As for my own training with Masaaki Hatsumi, I went to Japan twice, once in June...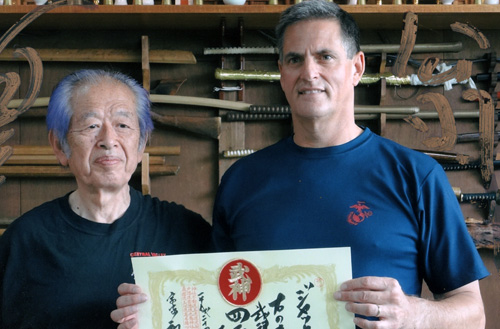 June 2012, Hombu Dojo.
and, again in November/December. As usual, I attended the Daikomyosai (Hatsumi Sensei's annual 3-day training event) with many buyῡ from around the world. We wrapped it up with the annual Birthday Party for Sensei. I lead the crowd in singing "Happy Birthday," and then accompanied Noguchi Sensei in serenading Sensei with "Ginza no Monogatari."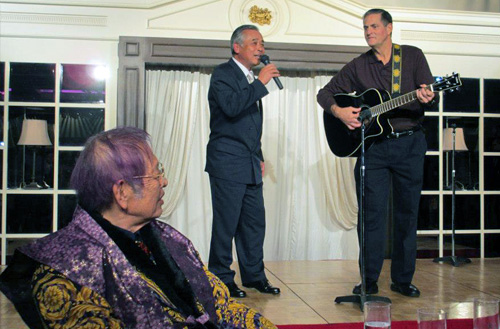 Ginza Monogatari.
Every year it seems that our Buyῡ group adds a few new faces. We really have a lot of fun training and enjoying each others' company – during and after the training.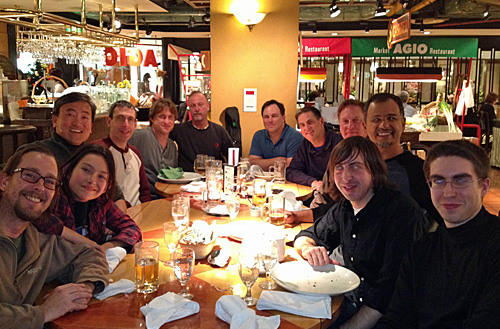 2012 Buyῡ Dinner Japan at Agio's in Kashiwa, as usual.

This past year I was again privileged to work with the Marine Corps Martial Arts Program (MCMAP) in Quantico, Virginia. This fine program is led ably by LtCol Pat Beckett and my good friend Joe Shusko (LtCol USMC ret.). It covers armed and unarmed martial arts techniques, combat conditioning, mental training, and character development.
I can't say enough about these young Marines who I am privileged to train with. They are physically and mentally tough, yet respectful and ethical. Many are veterans of both Iraq and Afghanistan. The methodology we use is simple but vitally important: train a lot, talk a bit, train a lot, talk a bit. The Marines relish the physical training, and then are open to hear how to use their training and core values to maintain their ethics and a "combat mindset" under the adversity of war. In martial arts training, it is often easy to focus on the physical part while giving mere lip service to the mental and character elements. But all three parts must go together.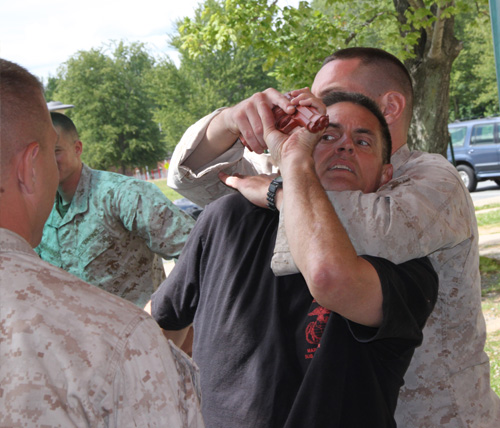 "Training - What if..." - USMC photo courtesy of Homer Brett 2012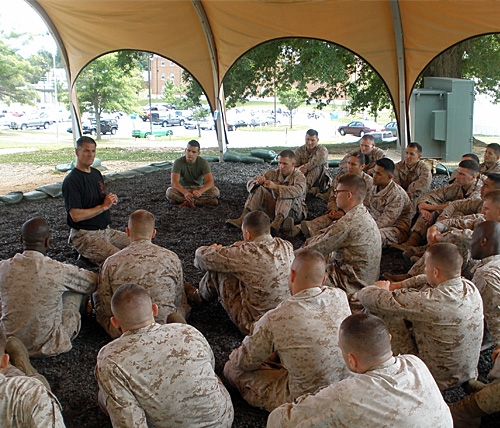 "Talking Ethical Warriorship" - USMC photo courtesy of Homer Brett 2012

"Marine Ethical Warriors" - USMC photo courtesy of Homer Brett 2012
On November 10, 2012, I was especially honored to be the Guest of Honor at the TBS Marine Corps Birthday Ball in Richmond, Virginia.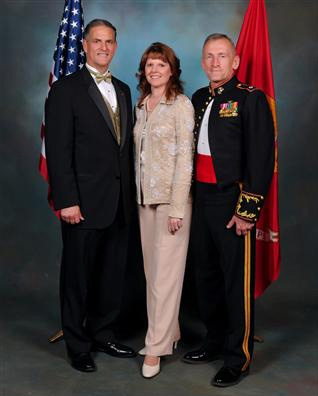 2012 Marine Corps Ball
Joe and Kadie Shusko provided needed moral support; there were 2,500 people in the audience for my keynote address!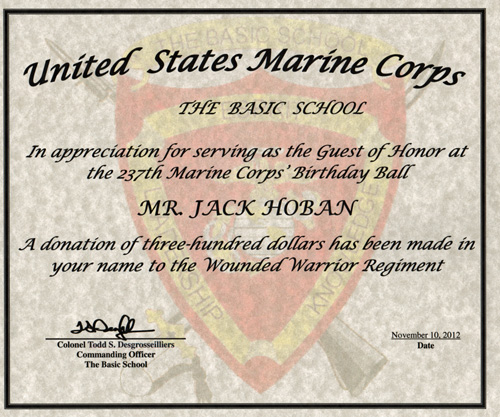 Pretty pleased with the above. Semper Fidelis!

Resolution Group International (www.rgi.co) is in it's third year and continues to flourish and make an impact.

RGI is made up of military and law enforcement professionals who teach how to resolve conflict under stress. The RGI curriculum extrapolates on the work I have done with Robert L. Humphrey and the Marines in the areas of ethics, conflict communication and physical protection skills. We had three more RGI Conflict Resolution Courses in 2012. We had participants from the NYPD, NJ State Police, Park Service, Marines, and many more.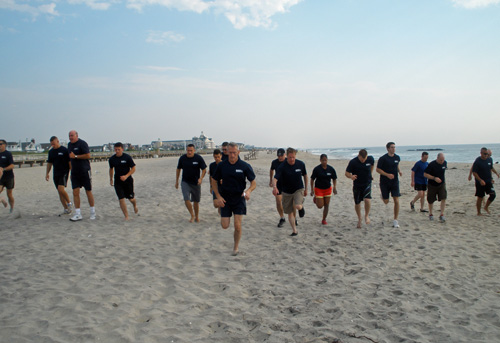 Joe Marine Shusko sets the pace!
The July course was especially rigorous and HOT; but everyone persevered and seemed to get a lot out of it. Check out some of the testimonialshere.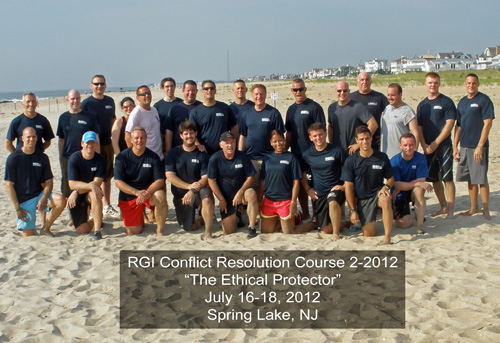 Another fine group of Ethical Protectors!
If you are interested in learning how to apply the Ethical Protector training as a law enforcement or military professional – or just want to explore the concept with the top-notch RGI instructors in a hands-on setting as a civilian warrior – check out RGI Events. To see more training photos, you can "like us" on Facebookhere.
As a representative of RGI, I had the honor of sharing the Ethical Warrior concept with many law enforcement professionals at the International Law Enforcement Education & Training Association (ILEETA) trade show in Chicago for the second time last April. Thanks to Gary Klugiewicz fromVerbal Defense and Influence (the new name of the late George Thompson's Verbal Judo system) for introducing me to this great organization.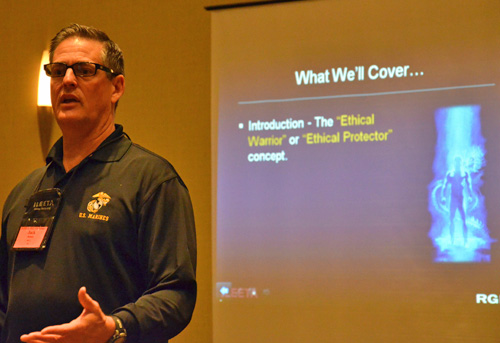 ILEETA
The response to the Ethical Warrior concept was overwhelmingly positive and I have been invited back in 2013 to do a session on Ethical Leadership.
RGI also has two videos, now. Check them out!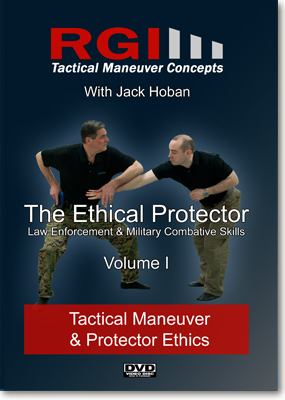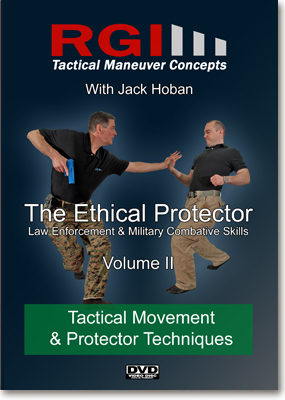 And don't forget Joe Shusko's book, "Tie-Ins For Life."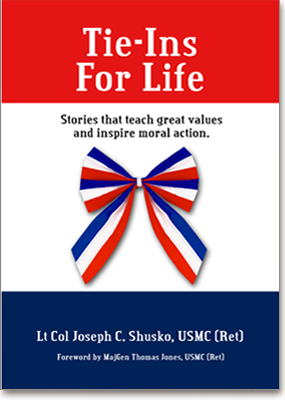 Another fun thing I did again this year was to "train" Nick Heller from theJoseph Finder novels. Due to Joe's recommendation, I also gave a presentation on how to write fight scenes at "ThrillerFest," a writers' convention in NYC.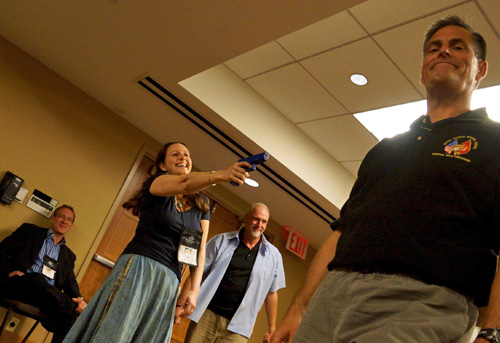 Joe Finder, author Joanna Penn, Bruin and Jack. Always with the "what ifs?" Geeez!
Thanks Joe and Bruin! If you are an aspiring writer, or just a fan, you should check out ThrillerFest.

Which brings us to 2013...
With the Ethical Warrior book and all the articles last year, it is not much of a secret what is on my mind – philosophically, at least. In June I had dinner with Hatsumi Sensei. We talked about the good old days and a little bit about what I was doing with the Marines and law enforcement community. In the middle of the conversation I asked him if he had any advice. He looked at me as if I was nutty and said – "Well, no." And then changed the subject. Upon reflection, I think he was saying (without saying), "Jack, you are a grown man with 30 years of training experience, isn't it about time you knew what you were doing without me having to tell you Grow up!" You have to laugh at that one.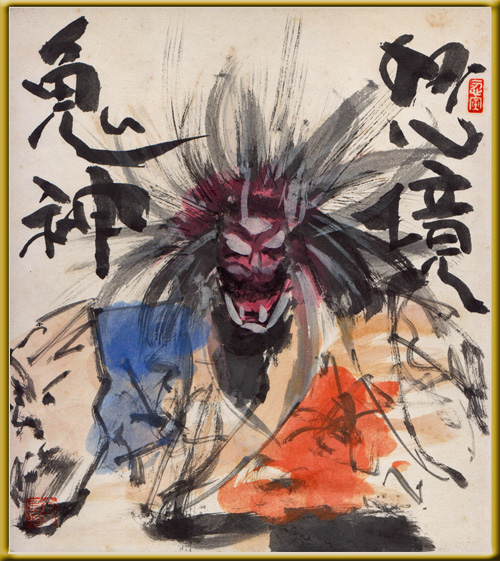 Painting by Masaaki Hatsumi - from author's personal collection
So let's all grow up. Take what we have learned and go out and use it. Stop dressing up in funny outfits, making believe we are ninjas and playing at the martial arts. Buyῡ Ron Forzani said this year: "Budo is not about fascination; it's about dedication." Ron is 77 and still training everyday; he knows what he is talking about.
And let's stop waiting around for other people to tell us how to train and live. We must go out and make a positive difference. Ourselves. Let's do what martial artists and warriors are supposed to do: stop conflict and protect others. Be Ethical Warriors. Remember, if we are not ethical from the inside out, expect our neighbors to demand controls on our behavior from the outside in. If we believe there are too many rules, laws and regulations imposed upon us today, and want fewer of them, then we know what we have to do…
That said, in my own training I will be working on becoming stronger and more flexible – again, from the inside out. The rage today is big muscles. I suppose that looking strong on the outside is supposed to make people feel strong on the inside. I'm not sure it works that way. Have you ever been hit by Hatsumi Sensei or Noguchi Sensei? They have no muscles, and they are 80 and 70 years old respectively. So how are they so strong? Think about it.
If you want to work on becoming strong and flexible together, well, come on over some time and let's train!

So here is the theme of our Buyῡ training this year: Improve every aspect of our physical, mental and moral fitness from the "inside out." Let's enjoy ourselves and do our best!
Happy 2013!
Jack Hoban